What do you love doing when you travel on holiday?
Some prefer to have fun on beaches, while others would rather hike through a mountain. Certain people would prefer using the opportunity to enjoy nature through scenic views, and yet some others would love to pitch tents, light fires, and spend the nights camping.
Regardless of which category you fall in, you're in luck! At Mystic Beach, you can do all of these things!
Located on the southwestern coast of Vancouver Island, British Columbia, Canada, Mystic Beach is a secluded beach, best known for its rugged natural beauty. It is accessible only through a hike and has tall cliffs, large rocks, waterfalls, and even caves along the shoreline.
1. Getting to Mystic Beach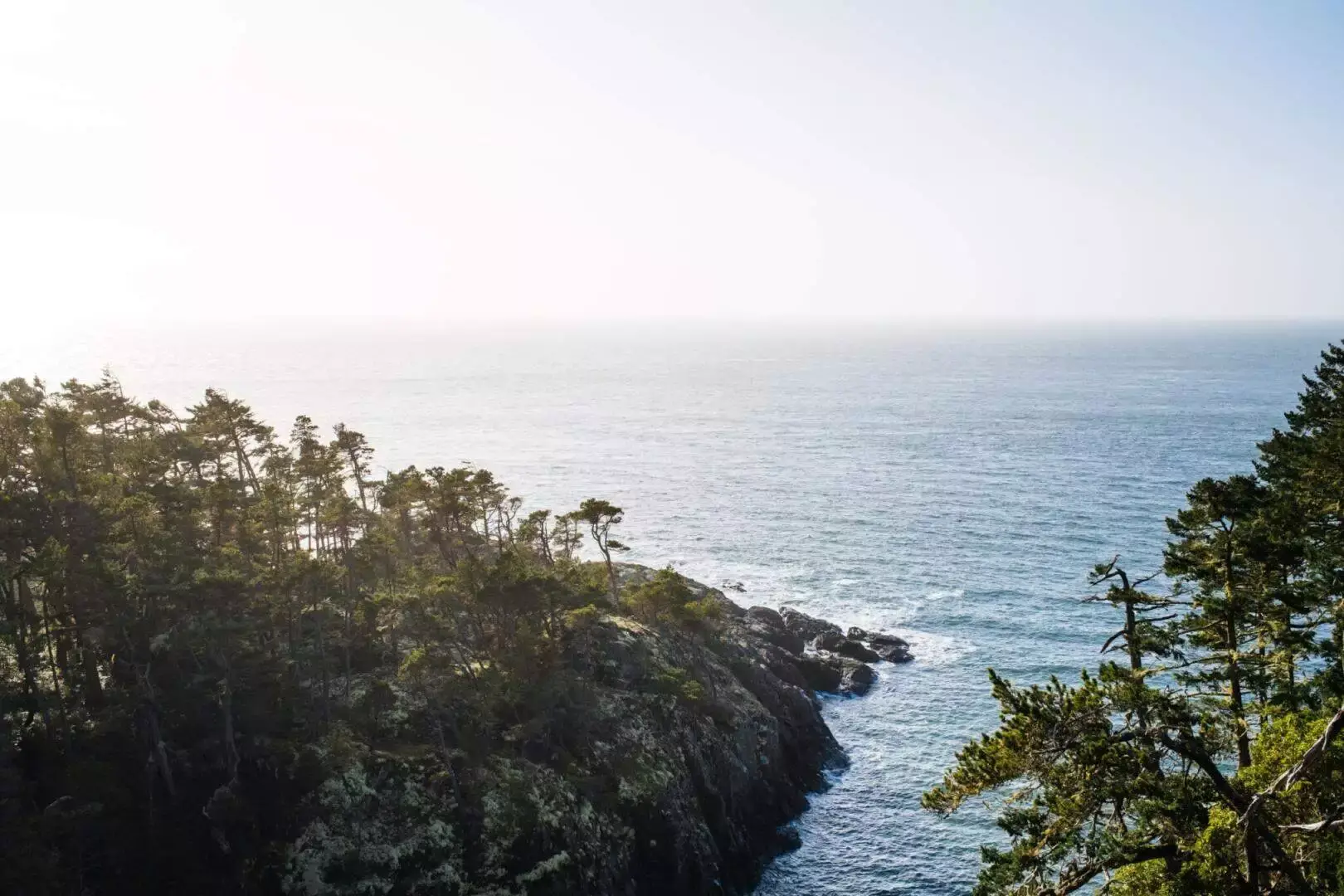 1.1 The Location
Near the southernmost point of Vancouver Island, Mystic Beach is situated at the eastern end of the Juan de Fuca Marine Trail, right after the Jordan River, and midway between Sooke and Port Renfrew.
The start of the trail is about a 1-2 hour drive from downtown Victoria, British Columbia.
1.2 Driving
The beach is accessible only through a hiking trail, and the start of that trail is at the China Beach Day-Use Area, which is located off Highway #14, heading towards Port Renfrew.
Take Douglas Street north from downtown Victoria and continue on it to Highway #1. Then, take Exit #14 to Langford and the Veteran's Memorial Parkway. Next, turn right onto Sooke Road and continue on it until you reach your destination.
1.3 Bus Rides
If you don't want to drive, the West Coast Trail Express has buses leaving Victoria, and crossing Sooke, China Beach/Mystic Beach, Sombrio, and Port Renfrew. In the summer, the Express runs a trailing bus every day, and in the winter, it runs every other day.
2. The Mystic Beach Hike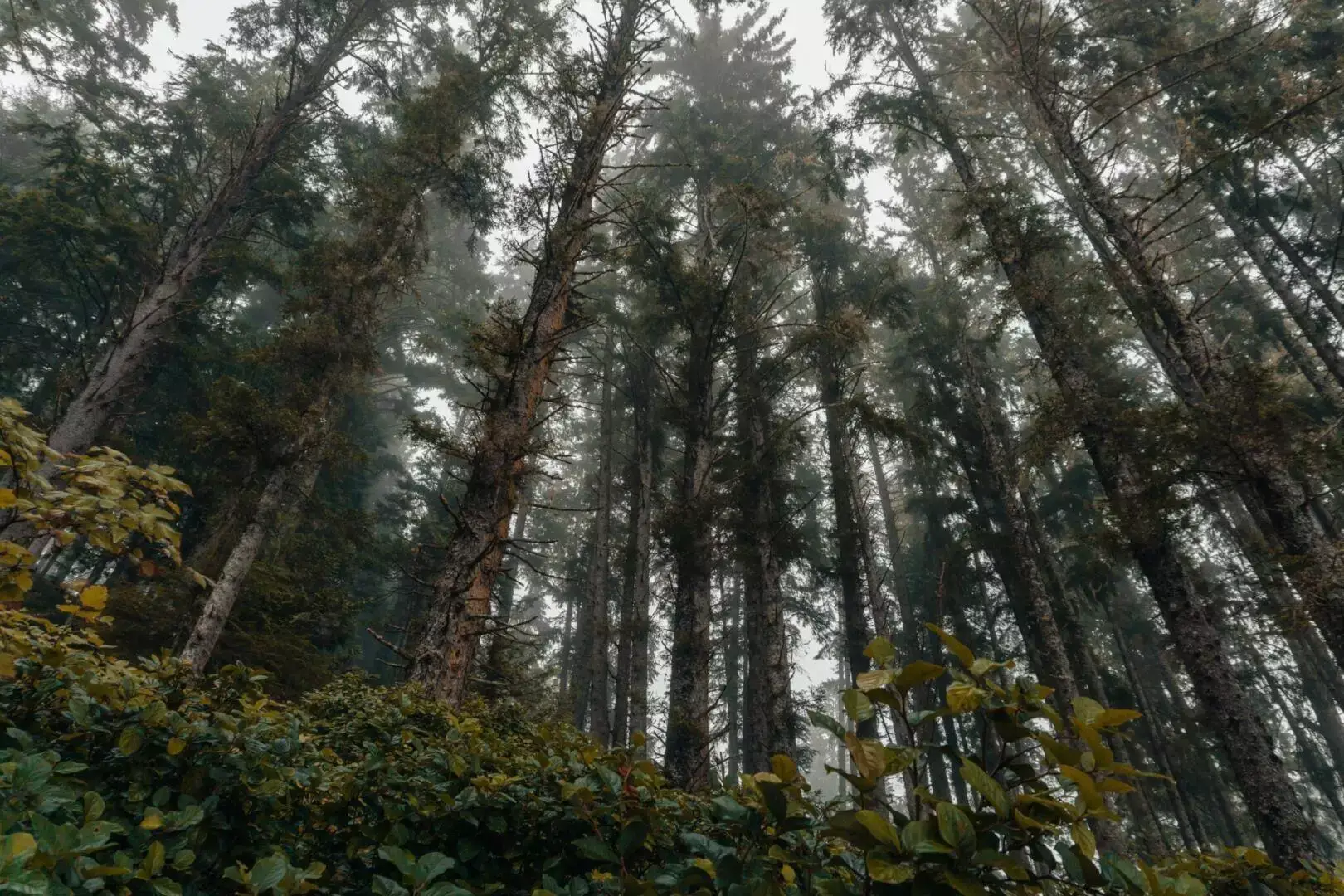 2.1 Be Prepared
Since you're going to walk through a forest in a mountain area, you should definitely be well-prepared.
Make sure to dress comfortably, with sturdy shoes and socks. Rain is a common occurrence in the area. Paired with the exposed roots and the constant elevation change, it makes for a slippery walk. Make sure to check the weather forecast, and layer up. Do not forget to carry a jacket, at least.
Your backpack should have a good quantity of drinking water, dry food and snacks, and a blanket and towel. You could also carry bear spray if you're worried about wild animals. Don't forget about the ever-important sunscreen.
2.2 Follow the Trail
The Juan de Fuca trail starts at the upper parking lot of the China Beach Day Use Area. Make sure you're there, and not at the start of the China Beach trailhead, which is at the lower parking lot. Mystic Beach is the first stop on that trail.
The entire route is through a massive rainforest, and it's generally dark, as the sunlight doesn't pass easily through the treetops. The route is not marked by signs, but by reflective markers on trees.
Keeping that in mind, do not forget to carry flashlights with you. The path is worn, but it could be easy to miss the markers, so stay alert.
Be careful as you walk, and watch your step. It really won't be a great experience if you twist your ankle on those tree roots, or injure yourself if you slip.
The path is beautiful, due to the ancient trees and the huge quantities of moss. After hiking for a while, the trail arrives at a suspension bridge at Pete Wolfe Creek that you will have to cross, which is a fun, and pretty, change of pace during the hike.
After this, you will turn left, and start downwards towards the beach. There is an old fallen tree, which has been carved into steps, and a wider path after.
By now you will be able to hear the waves. The first look at the beach, from the final set of stairs, will surely be a sight to remember.
3. What to Expect at Mystic Beach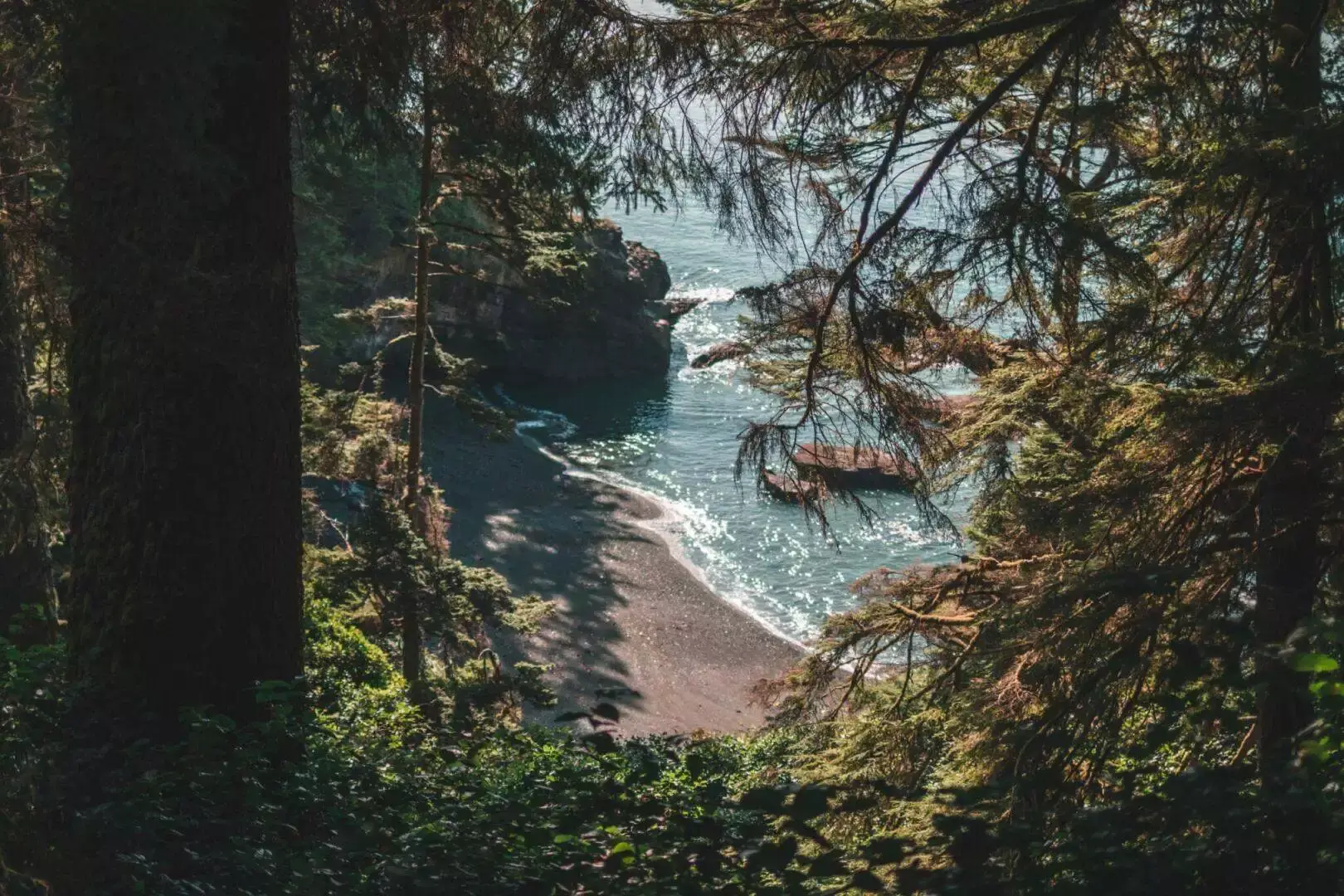 3.1 Nature's Beauty
Mystic Beach is known for its untouched natural beauty. The driftwood, scattered throughout, has strange shapes and forms. The rock formations, the cliffs, the tide pools, the caves, the view of the ocean, and the horizon are all strange, ethereal, and beautiful.
Whether you're visiting the beach as a stop on your way along the Juan de Fuca Trail, or whether this is your destination, it's a good idea to bring a picnic and enjoy the seashore as you eat. You'll definitely need it after that hike.
This is also a great place to watch for wildlife, such as eagles, seals, whales, and sea lions, all at different times of the year.
3.2 The Caves
On both sides of the entrance to the beach, you will be able to opportunity to explore cool sea caves. There's a relatively big one near the waterfall as well.
The view from the caves is absolutely stunning, and you'll come across more rock and driftwood formations, and a whole lot of beautiful, soft moss.
3.3 The Waterfall
On the left side, if you walk along the shore of Mystic Beach, you will come across a spectacular waterfall (only during the rainy season, of course, otherwise it's more like a trickle).
It crashes into the water from the sheer clifftops, at a 10-meter height, and there's also a cave and a tide pool there. Halfway between the stairs and the waterfall, there used to be a rope swing.
Over time, it's become frayed with use and the effect of nature's elements. Now, it probably doesn't even exist but at one time, it was a famous spot at Mystic Beach.
4. Camping at Mystic Beach

4.1 Getting a Permit
Mystic Beach is the first designated camping area on the Juan de Fuca Trail and is a great place to experience backcountry camping. However, there is no specific camping spot that has been demarcated on the beach itself.
There are only pit toilets at the end of the trail to Mystic Beach. There are no showers and no place to get drinking water.
Before camping there, you will have to get a pre-purchased backcountry camping permit. You can check out the BC Parks official site to get the details. You can either purchase this online or leave cash at the beginning of the trailhead.
If this is a little too wild for you, you can also choose to camp at the China Beach Campground, located a mere kilometre away from the shore. While it also has only pit toilets and no showers, it does have taps for potable water.
4.2 The Do's
If you're planning to camp at Mystic Beach, it's recommended to set up on the beach itself and not the forest, to help preserve the vegetation. Make sure you pick a spot above the high tide line, otherwise you might get a horrible, wet surprise at night.
If you want to start a fire, use only dry and dead wood. However, since the area tends to get frequent rains, that might be hard to find, so it's a good idea to bring your own firewood. Light fires below the high tide line, so that the remains are naturally doused and washed away later.
Carry bags with you so that you can clear up your own trash. Don't leave your litter behind, and make sure to clear the place up. Be careful when storing food, and definitely don't keep food, especially those with distinctive smells, near your tents while you sleep.
Make sure to pack enough essential items and a sufficient quantity of drinking water with you. It may even be helpful to pack those water-purifying tablets with you, along with bear spray.
4.3 The Don'ts
Don't set up camp without a backcountry camping permit, and don't forget to carry the permit with you throughout.
It is not advised to set up your tents in the forest or too close to the shore. You really don't want water to seep into your tent while you sleep, or in the worst case, get swept away altogether.
Don't leave anything on the beach when you leave. Don't litter. Pack up your garbage, and check the area once to make sure you haven't missed anything.
Don't break wood from healthy trees, don't disturb the wildlife or the vegetation, and don't use more resources from the area than you need.
5. Frequently Asked Questions (FAQs)
Q.1 How Long of A Hike Is It to Mystic Beach?
Ans. The hike to reach Mystic Beach is 2km, but it may seem longer due to the constantly changing elevation, the muddy path, and the constant changes in elevation across the trail. It should take 45 minutes to an hour.
If you want to visit easier-to-reach beaches on the mainland, check out the best beaches to visit in Vancouver here.
Q.2 Can Kids Make the Hike to Mystic Beach?
Ans. Due to the mud-covered paths and the exposed roots of trees, strollers will definitely not be able to make it here, so you should definitely not bring along your babies or toddlers unless you plan to carry them the whole way.
The path may also prove too tiring for smaller kids, but slightly older children may be able to undertake this hike.
Q.3 Can You Swim at Mystic Beach?
Ans. Swimming is permitted at Mystic Beach. However, the currents in the area are strong, and there may be sharp rocks near the cliffs and caves. Keep an eye on the tides, and maybe skip the swim unless you're experienced.
The waves are great for surfers, though, so you could also give that a try.
Q.4 Is the Area Dog-Friendly?
Ans. While Mystic Beach does not prohibit dogs, it is not advisable to bring your furry friends. There are wild animals, such as bears and cougars, on the trail, which means there is always the danger of an unintended clash occurring between the animals.
If you do plan to bring your dogs, make sure to keep them leashed.
Q.5 Is Mystic Beach Worth It?
Ans. Since Mystic Beach can only be accessed after a hike, it gets far fewer visitors than other similar types of beaches. The picturesque view that you're greeted with at the end of the hike, along with the beach itself, with its caves, waterfalls, tide pools, and ocean views, makes the exhilarating hike to the beach well worth it.
6. Closing Notes
Mystic Beach is part of the Juan de Fuca Provincial Park, which covers over 80,000 hectares of rugged wilderness on the western coast of Vancouver Island.
The beach is known for its unique rock formations, including large stacks and arches, which are formed by the constant erosion of the cliffs.
Mystic Beach is one of the most scenic beaches along the southern coast of the Juan de Fuca Strait. It is a popular spot for surfers, as it is exposed to swells from the open Pacific Ocean, and also a popular spot for photography and nature viewing, as the sunsets are particularly beautiful.
The beach is also home to a wide variety of wildlife, including black bears, cougars, and elk. Visitors should be aware of their surroundings and take necessary precautions while hiking to and from the beautiful Mystic Beach.