The best restaurants in Nanaimo are all set to tickle your taste buds with their variety of tasty cuisines and a beautiful and welcoming atmosphere. You will have a lot of options apart from authentic Canadian traditions like Mexican, Thai, Japanese and Greek tastes on your plate to fulfill your appetizers.
For all the foodies living in Nanaimo or looking to have some tasty cuisines, pack your staff and explore these best restaurants in Nanaimo. I assure you that this place will not disappoint you in any manner. So, get ready to get "Love from Nanaimo."
About The City, "Nanaimo"
Nanaimo is a beautiful city located in Canada and is known as "The Harbor City," on the east coast of Vancouver Island in British Columbia. Like spokes on a wagon wheel, the streets radiated out from the shoreline, leading to the city's centralized location on Vancouver Island.
What To See?
This place is best known for the Nanaimo waterfront, Nanaimo Harbour, Pacific Biological Station from Departure Bay Beach c., Vancouver Island Military Museum, and Nanaimo Museum. North Nanaimo Art Gallery, another popular attraction located downtown at 150 Commercial Street, showcases exhibitions by local, national, and international artists. The Gallery operates an Art Lab which offers year-round art-based programs for learners of all ages.
Annually, they celebrate Marine Festival, including the bathtub race. It starts from the Nanaimo Harbour downtown, island highway amongst the beautiful landscape, goes around Entrance Island, north-west to Winchelsea Islands by Nanoose Bay, and finishes in Departure Bay back in Nanaimo. If you intend to visit, the city's Indigenous peoples will make your visiting Nanaimo more interesting and enjoyable.
Apart from these beautiful sites, Nanaimo offers tasty, authentic food and atmosphere along with late-night enjoyment, and the best restaurants in Nanaimo offer all these.
After reading this much about Nanaimo, we can tell you are tempted to know more about the city's food scene! So, without further ado, here is a list of the best restaurants in Nanaimo.
1. The Nest Bistro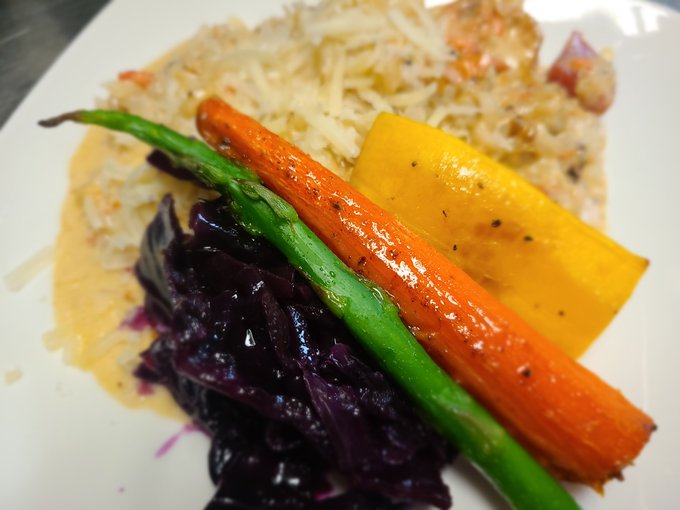 One highly recommended place where you can start with the Nest Bistro. This restaurant serves delicious food having a touch of French and Italian elevating them with flavorful, local ingredients and culinary artistry. Do you love cookies? Chef Jane's soft and perfectly baked cookies won't disappoint you either! Who's Jane? Let's get to know her a little bit.
The Nest Bistro is run by a very talented and versatile Chef Jane. Jane's passion for serving and greeting customers leads her to complete various diplomas and degrees in the tourism/beverage industry. After working in several restaurants and winning Gold Medal, Jane started her first business – a cookies company, and now The Nest Bistro, one of the best restaurants in Nanaimo.
Guests visiting Nest Bistro had given rave reviews for its forest mushroom, Brie Tarte, handmade gnocchi, and chicken or local seafood risotto. When you visit next, make sure you try all these. If you are looking for a date night, group outing, or family get-together, then The Nest Bistro will be the best choice to make memories.
Apart from serving a beautiful ambiance, sitting arrangement, and fantastic food, you will enjoy a well-experienced friendly staff. They will help you choose your cuisines and make you comfortable.
Some Famous Dishes Served By "The Nest Bistro"
Nest Caprese Salad
Organic Greens
Arancini
Sambuca Prawns
Cheese Breadsticks
Butternut Squash Ravioli
Chicken Carbonara
Potato Crusted Salmon
Where To Find "The Nest Bistro"
77 Skinner St. Nanaimo. BC .V9R 5G9, Downtown Nanaimo
2. Mrs. Riches Restaurant
Mrs. Riches Restaurant is a well-known restaurant in Nanaimo. They serve to top an extensive niche menu with foods from around the world. Sandwiches, soups, chicken, seafood, pasta, and pork ribs are available here. Mrs. Riches Restaurant has been serving great food for the last 30 years with full courtesy and a welcoming atmosphere. K2 Mountain Burger is one of the most famous dishes from many, like legendary spaghetti, fish, and chips fast food. The K2 Mountain Burger comprises 2 pounds of beef, bacon, ham, two eggs, veggies, cheese, and condiments on a gigantic bun. They also run a campaign that if someone eats the entire burger in 30 minutes, then they will get a free meal(Wow!!)
Moreover, they gained a reputation in serving for a party, business meetings, and big events like marriages, anniversaries, house parties, and many more. They have professionally trained staff with more than 35 years of combined experience and are ready to help for your next visit. For their utmost commitment to professionalism, this one is also considered one of the best restaurants in Nanaimo.
Some Famous Dishes Served By "MRS. RICHES RESTAURANT"
Appie Platter Sampler
Original Wontons
Basket of fries
Mozza Bread
Vealy Good Veal Cutlets
Honey Garlic Chicken
Gaint Super Shakes
Herbal Teas
Where To Find "MRS. RICHES RESTAURANT "
Mrs. Riches Club café, 199 Fraser St. Downtown Nanaimo
3. Asteras Greek Restaurant
Asteras Greek is located in the heart of the old city quarter of downtown Nanaimo. Once you step into Asteras Greek Taverna, you will be embraced by the warmth of traditional Greek hospitality 100 years old heritage hospitality.
The restaurant is one of the best restaurants in Nanaimo that serves the authentic and local spices of Greek in Canada. The netizens highly recommend this awarded restaurant to spend time along with Greek cuisines. They will offer a wide range of wines and some of the Greek favourites, including moussaka and seafood dishes, and are rounded off with desserts, ample apples, desserts and many more.
For its unmatchable dishes and service, Asteras Greek has made itself counted among the best restaurants in Nanaimo. They serve all ingredients homemade, fresh, and from a local farm. You can choose traditional, sensational recipes, all originating from Crete, an island renowned for its healthy diet of fresh and simple ingredients. This place is perfect for romantic late-night dining, assuring a fulfilled good music experience.
Some Famous Dishes Served By "Asteras Greek Restaurant"
Beef Tenderloin
Paidakia
Grilled Half Chicken
Grilled Sockeye Salmon
Vegetable Brochette
Melitzanosalada
Assorted Mezethes
Caesar Salad
Where To Find "Asteras Greek Restaurant "
347 Wesley St, Nanaimo
4. Sukkho Thai Restaurant
Sukkho Thai Restaurant is the one-stop for all Thai food lovers. It is located inside the downtown, just middle of the commercial street and is one of the best restaurants in Nanaimo. This restaurant will serve you all Thai flavours in Canada.
If you want to visit this place, do not forget to taste the Beef Salad, Spring Rolls, Pad Thai & Vegetable Green Curry. Their mouthwatering dishes are carefully prepared with fresh ingredients. Gluten issues? No worries, the staff will definitely take care of it.
Some Famous Dishes Served By "Sukkho Thai Restaurant"
Pad Thai
Thai Basil Stir Fry
Roasted Chili Stir Fry
Tofu and Vegetables Soup
Prawn Wontons
House Fried Rice
Black Pepper & Ginger Stir Fry
Canned Pop
Where To Find "Sukkho Thai Restaurant"
123 Commercial St, Nanaimo
5. Minnoz Restaurant & Lounge
Minnoz Restaurant & Lounge is one of Nanaimo's best restaurants and is located within the Coast Bastion Hotel. The highly beautiful and modern furniture will stun you and make your day! It will be a good-to-go place to start from breakfast to lunch and end with dinner.
The Minnoz Restaurant & Lounge's menu is inspired by all seafood, which also includes grilled cheese and burgers, elevated pasta, steak dishes and fish. They also organize musical events to make dining memorable with incredible entertainment and good food.
The bar and lounge at Minnoz is an excellent idea if you want a quick dinner. You will enjoy casual dining and a pleasant, elegant atmosphere here. Homemade fresh food is all you need to entice appetizers.
Some Famous Dishes Served By "Minnoz Restaurant & Lounge"
Buttermilk pancakes and sausage
Charlotte Eggs Benedict
Minnoz Blue Crab Cakes
Chicken Flatbread
Chef's Calm Chowder
Steamed Mussels
Duck Confit
Thai Noodle Dishes
Where To Find "Minnoz Restaurant & Lounge"
11 Bastion Street, Nanaimo
6. Gabriel's Café
Starting from a very small business to turning into 1600 square feet café, the story of achieving a big dream has come true for Gabriel's Café. This cafe is considered one of the best restaurants in Nanaimo.
Gabriel's Café transforms locally sourced food from the local farm to fork ingredients into some of the island's best breakfast, lunch, and dinner options. Without compromising on flavour, the "Gabrial's Cafe" eatery accommodates most dietary restrictions at a reasonable price.
They follow the community culture and have one long table that encourages conversation between strangers. They do have numerous private table options as well. They also work with about 15 farms and food producers to encourage local vendors and local artists.
Moreover, they developed a soup token program to help disadvantaged people in the community. This place is for everyone from all walks of life to come together and connect around food. 
Some Famous Dishes Served By "Gabriel's Café"
The Ian Staple
House Caesar
The Left Coaster
Korean Pulled-Pork Sandwich
Creekmore Coffee
Malaysian Peanut Sauce
Bread With Kale Butter
Housemade Raspberry Mint Iced Tea
Where To Find "Gabriel's Café"
39 A Commercial Street, Nanaimo
7. Bistro Taiyo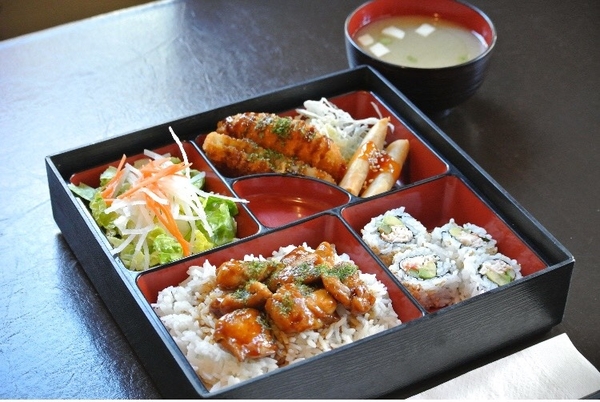 Bistro Taiyo is composed of two words, Bistro and Taiyo, which means causal and Sun; Bistro Taiyo was founded in 2001. They are trying to convey a sweet message via the name that brings light in the world like the sun, which gives its blessings to all life on earth.
The restaurant is one of the best-known restaurants in Nanaimo, with incredible food service. They are providing the best Japanese cuisines along with a beautiful smile! Running successfully for the last three decades, this place is the best know for handcrafted, in-house ramen, fresh seafood, sushi rolls, spring rolls, imported drinks, and izakaya food.
On the special request, they also make Japanese cakes and party trays, perfect for parties and celebrations. Having enough space to organize a friend's get-togethers, birthday parties, and other occasions. Amazing food and service managed itself in the list of best restaurants in Nanaimo.
Along with tasty authentic Japanese food, they have a unique concept in which they click the photos of their customers and ask them to write a message on them. A beautiful wall in the restaurant is dedicated to showcasing the memories of the customers.
Some Famous Dishes Served By "Bistro Taiyo"
Tsukemono
Avocado Tempura
Teriyaki Chicken Don
Oyako Don
Kanpyo Roll
Umeziso Roll
Vegetarian Bento Box
Sashimi Lunch
Where To Find "Bistro Taiyo"
321 Wesley St, Nanaimo, BC V9R 2T5
8. Troller's Fish & Chips
Troller's Fish & Chips is one of its kind as it is floating on the river, known for its finest and freshest seafood island consort. It is a classic restaurant which serves fish and chips, including sockeye salmon, lingcod, and halibut.
It is a Floating restaurant and is usually open from April to October. Whether you have ordered lingcod, the delectable fresh halibut, and sockeye salmon, you have served with fresh, local, and wild-caught seafood.
You will love this place as everything around this restaurant is beautiful and welcoming. It offers a unique harbour location offers incredible oceanfront views. The menu items included great coffee, nana sushi, and excellent service will add a plus point to count these as the best restaurants in Nanaimo.
Some Famous Dishes Served By "Troller's Fish & Chips"
Creamy Clam Chowder
Fresh Halibut & Chips
Poutine
Grilled Cajun Halibut Burger & Chips
Grilled Salmon with Salad
Red Rose Tea
Where To Find "Troller's Fish & Chips"
104 Front St., Float F Nanaimo, BC
9. Gina's Mexican Café
Gina's Mexican Café is a beautiful pink house on a hill that serves all handcrafted Mexican food, locally owned and operated since 1986. It is known for its fun, family-friendly atmosphere, and netizens called it the "pink house on the hill."
Located in the heart of downtown Nanaimo, serves full fresh and tasty Mexican food. They are served all Mexican special authentic cuisines like burritos, fajitas, tacos, chimichangas, soups, salads, Mexican and margaritas, beers, and sangria. The satisfying and extensive menu includes classic favourites, enchiladas, and chimichangas, including tacos, as well as generously sized combination platters.
You will have vegan and gluten-free options and is willing to accommodate allergies and dietary requirements. While managing social distancing and covid protocols, the staff is giving its best to satisfy customers.
Some Famous Dishes Served By "Gina's Mexican Café"
Chipotle Sauce

Guacamole

O'Douls Non-alcoholic Beer – Amber

Prawns Coriander (GF)

Taco Salad

Southwestern Burritos

Chimichangas

Fudge Brownie
Where To Find "Gina's Mexican Café"
47 Skinner St, Nanaimo, B.C.
10. Delicado's
This award-winning restaurant located at the Nanaimo, Delicado's, is one of the best restaurants decorated with bright, colourful funky looks and excitement. However, it has limited door space, an outdoor space to enjoy fast food, friendly service, and a great location.
Delicado's is all set to blast your taste buds with southwest flavour, mouthwatering items such as roll-ups (wraps), enchiladas, southwest burritos, tortilla pies, baked polenta, fresh salads, homemade soups, and much more.
You will enjoy a variety of authentic southwest hot sauces, delicious BBQ marinades, freshly salsas, and many varieties of hummus that are also oil-free. The place is nicely decorated. High-quality food with reasonably priced gluten-free options and support staff would be the reason for repeated customers.
Some Famous Dishes Served By "Delicado's"
Chicken Breast
Chicken + Shrimp + Beans
Garden Medley
Burrito el Grande
Chicken Tostada
Home-Made Soups
Tortilla Chips
Where To Find "Delicado's"
238 Wesley Street, Nanaimo
I hope you will enjoy the above-mentioned best restaurants in Nanaimo on your next visit. These places will not disappoint you in any way; you will enjoy the cuisines like rice bowls, roast lamb, ton soup, beef brisket, garlic naan, and much more.
Moreover, apart from the restaurants mentioned above, you can add some other options like Longwood brewpub, Victoria crescent, Mahle house, Mexican restaurant, and Vietnamese restaurant to your list.
Most places appreciate pre-bookings over the phone to avoid any miscommunication or customer dissatisfaction. Even though some restaurants offer home delivery, takeaway, and order online options, you can also order from the comfort of your residential house.
We would like to suggest you go through the official websites of the respective restaurants, and also all the restaurants mentioned above have more than 4 ratings on Trip advisor. You can check the menu, timings, and customer reviews before choosing the best place to embrace you're loved ones.
Looking for similar articles? Read " Best Restaurants in North Vancouver"
"How To Ship a Package in Canada"
"Best Birthday Cake Spots in Vancouver"