Ottawa dog rescue centers have played an instrumental in reducing populations of stray animals and abandoned pets on the streets. Foster volunteers and animal shelters have been trying endlessly to deal with the growing problem of overpopulation of animals.
You can also become a solution to the problem of abandoned animals by becoming a foster pet parent, volunteer, or even adopting a pet from a shelter.
If you're looking to adopt a rescued dog in Ottawa, here are some shelters you must definitely check out.
Ottawa Dog Rescue Centers
Today's article will discuss some of the most popular dog rescue shelters in Ottawa that you can check out if you want to help the animals around you.
1. Marshall's Dog Rescue 
With the motto of "we believe there is a home for every rescue pet and enough love to save every life," Marshall's Dog Rescue, led by Johane Marshell, is a foster-based rescue center that is dedicated to rescuing dogs that are abandoned.  These dogs become loving members of the big Marshall family after being rescued.
Even though they have dogs of all kinds, they especially need help with dogs whose time is already up.
Working with Marshall's, you can choose between fostering temporarily or permanently.By temporary fostering, you will have to provide in-home care to the dogs until they are ready for their forever homes. This also includes providing palliative care for dogs who require a quiet, comfortable home for the remainder of their lives.
You can also donate on their official website to help them care for the dogs and rescue more needy and deserted animals.
Contact: You can contact them by their email – contact@marshallsdogrescue.com
2. Ottawa Dog Rescue  
The Ottawa Dog Rescue Shelter was founded in August 2013 by animal lovers and rescuers. They are dedicated to rescuing and helping abandoned, abused, and surrendered dogs from Ottawa and helping them find new loving homes.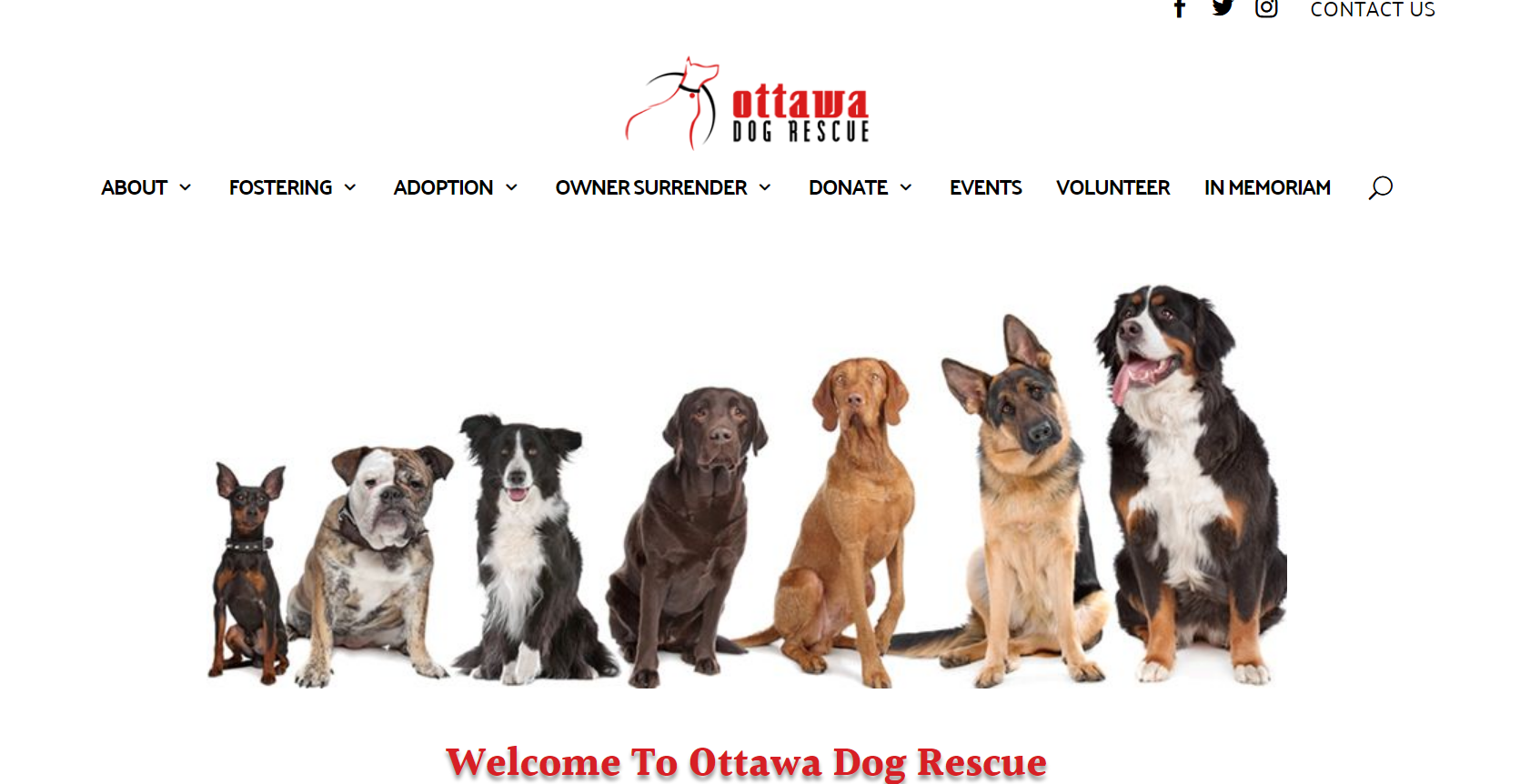 They are a professionally run non-profit organization that focuses on saving dogs. Ottawa Dog Rescue has a great team of volunteers, local doctors, and fosters who help them achieve their goals. The rescue dogs are fostered until they find a forever home.
The rescue workers also try to raise awareness among pet owners about their responsibility towards the animals they adopt. They also emphasize the importance of spaying or neutering.
The rescue is recognized as an Ontario and Federal non-profit charitable corporation. Their Registered Charity Number  is 834727232RR0001
Contact: To know more, you can follow their Facebook account.
3. Freedom Dog Rescue 
Freedom Dog Rescue is a non-profit organization founded in February 2015. It is an all-breed, all-size, foster-based rescue center operating in Ottawa and its surrounding areas.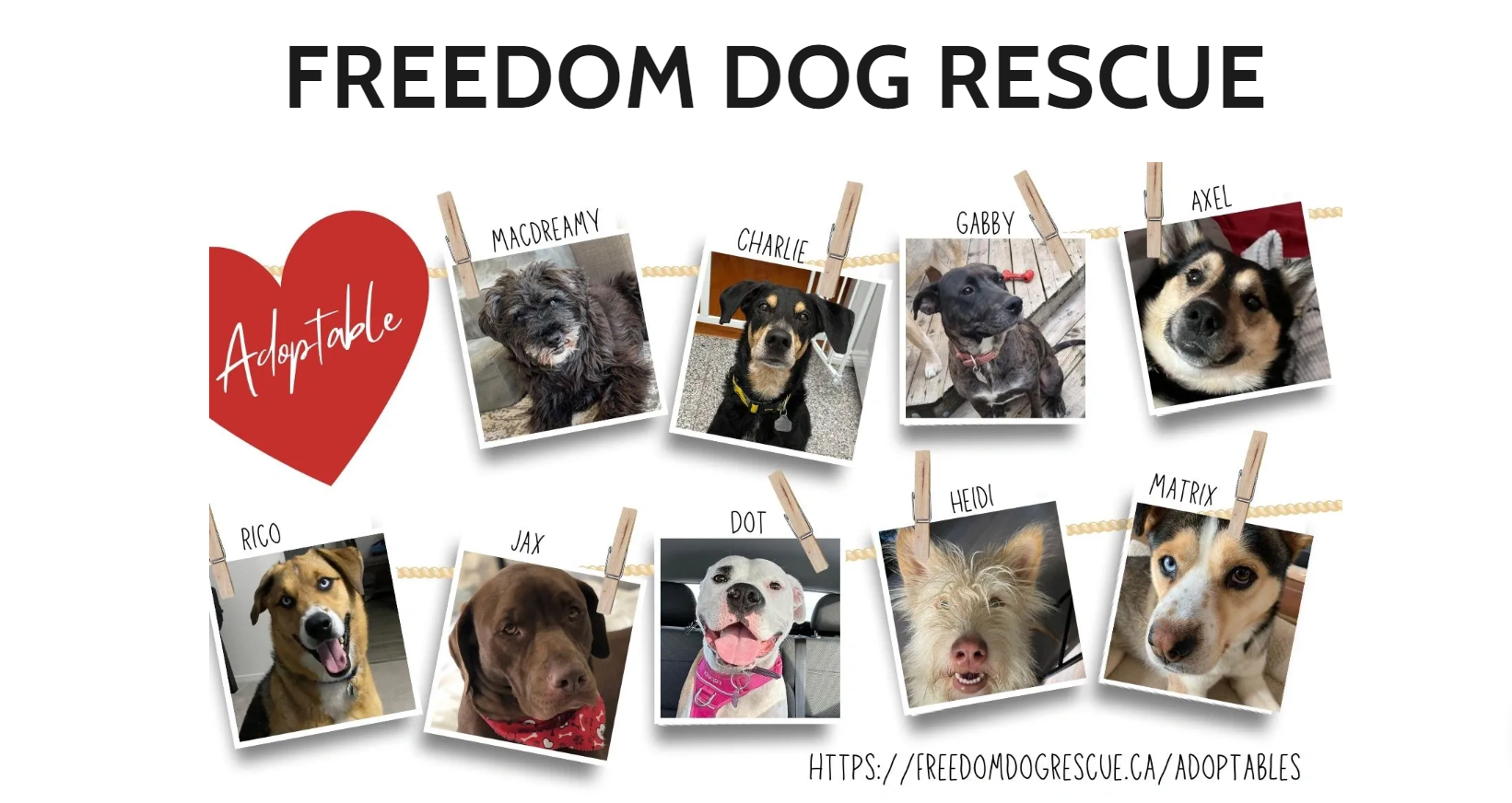 They are dedicated to rescuing homeless and abandoned dogs. They also try to find better homes for dogs whose owners have surrendered them. The Freedom Dog Rescue Centre works with volunteers, foster homes, and local animal doctors whose sole aim is to ensure that the animals have a better life.
You can also donate to help them by supporting and contributing to this center. To donate, go to their official site and scroll down till you find the Donate option, click and pay. You can pay using Paypal, Mastercard, Visa, Discover, and American Express.
Their Registered Charity Number is  #783761323RR0001 Non-Profit Corporation #9629629.
4. BARK Dog Rescue
Founded in 2001, the BARK Dog Rescue is a registered charity and foster-based rescue organization. They offer aid to families who want to keep their dogs. They also rescue and home homeless and abandoned dogs and also educate people about caring for animals.
The organization primarily focuses on rescuing and rehabilitating dogs in the Ottawa area. They also provide support to families who want to foster dogs in their own homes.
BARK focuses on finding foster care for abandoned dogs and educating children and adults on caring for animals and pets to learn responsible pet ownership.
They also hold a no-kill policy under which the rescue dogs that come under its care are cared for until they find a foster home. Till then, the organization can be their forever home.
Their Registered Charity Number is 868956418RR0001.
5. Bullies in Need 
Formed in 2005, Bullies in Need is a charitable organization for pit bulls only. In 2005, when the provincial breed ban was issued, pit bulls were suddenly prohibited. This organization quickly helped the lovely animals and found shelter for them to ensure they didn't suffer.
They continue to facilitate providential placements for dogs affected by BSL and recommend resources to help the owners. They team up with volunteers, doctors, and locals to rescue and help dogs from all around Ottawa.

Conclusion
Apart from these, there are many other dog rescue centers, such as
Homes for Paws Dog Rescue
Keshet Kennels
Navan Dog Rescue Ottawa
New Beginning Dog Rescue Ottawa
Remember, adopting a pet is a huge responsibility. You must consider the decision from all aspects and do your research before adopting an animal. The breed, size, temperament, and nature of dogs can vary greatly, so you must be careful in picking a breed that is compatible with your lifestyle.
Once you have adopted a dog, it is important to make the dog feel at home. Dogs from shelters may sometimes come with their own set of traumatic experiences, and it may not be easy for them to trust their new family from the get-go.
Here are some tips that will help your new family member settle in:
Before getting a furry member, you should always prepare the home, such as putting away clutter, placing a potty schedule, and having everything ready, such as a leash, collar, ID tag, poopbag, food, etc.
Staying calm in the new environment is important. Chaos and loud noises can disturb the dog and cause mishaps, so it is better to let the dog approach and open up to its new family naturally.
Talking a walk around the new neighborhood can give a dog a familiar scent and background. It will also help the dog relax in new surroundings by spending pent-up anxious energy.