Put on your detective hat and solve a curious murder mystery of the Gastown Murder Mystery Game in Vancouver, an interactive experience available to the public on various dates and varied time slots at a secret start location near Waterfront Station.
Run down the streets of Gastown with your investigating team, and solve the complex case at Gastown Murder Mystery Game. Gather the clues, crack the codes, and find the killer before he escapes from this case without being discovered.
If your detective skills are good enough to solve this case; solve this horrific homicide and prove it by booking your tickets from Fever right now! 
Challenge Your Inner Detective at Gastown Murder Mystery Game
Jimmy Capello was brutally murdered to death and no one has any idea about who did it and why. 
Make your way through Gastown to discover all the hidden clues left by the killer on the streets and then report back with your answer, to solve this cold murder with your capable team.
Time is running out of hand, report your findings as soon as possible. You can earn extra points for submitting your report to the police chief within 90 minutes.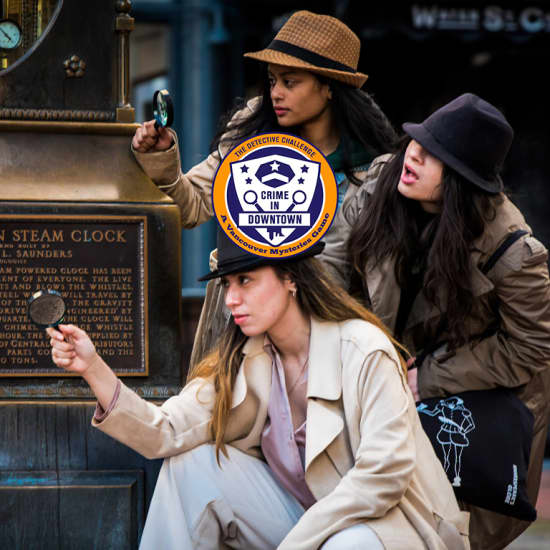 Get ready to crack this cold murder case and find out who killed Mr. Jimmy. Sounds interesting right?
What More to Expect?
The game consists of various challenges to gather clues. Use your unique detective skills to solve this spine-chilling homicide. This is a competitive game between different teams to reach the top score.
While solving the case explore Vancouver's legendary Gastown. Take a trip to Maple Tree Square, Gastown Steam Clock, and many other iconic places.
The game is en route to many trendy restaurants, bars, and other attractions. You can check them as well.
After finishing the thrilling game, you can satisfy your hunger pangs with the attractive 15% off offer at the Stock & Supply downtown's regular menu, excluding the happy hour and alcohol. You need to show your booking confirmation to avail of this offer.
Additional Details
You do not need any additional gadgets to take part in this game. You are provided the game gear that includes a game book, and a route map.
A complete game kit includes various tools, cool artifacts, puzzles, and clues to help you win the game within time.
Flashlights are provided at nighttime games seasonally. The time limit is a maximum of two hours. Be as quick as possible.
The difficulty level is intermediate and even if you are not able to solve the case you still earn your detective badge.
The age requirement is 12+, with minors accompanied by adults above 19 years. A team can accommodate 2 children under 6 years free of cost.
The whole route is wheelchair accessible. For any query look up this FAQs section.
Tickets
You can easily join the detectives of this murder game through Fever. Visit Feverup.com or download the Fever app. Select the dates and times conveniently from the ticket selector. 
 A standard admission for one person includes 2-6 people per team and the maximum number of people per game is 48.
Your ticket package will include a team certificate, a detective badge sticker, and a souvenir photo to download free of cost.
If you want to present a Vancouver Mystery gift card for your family and friends, you can check out here.
Bring Out Your Inner James Bond and Solve the Murder Mystery at Gastown
What- Gastown Murder Mystery Game in Gastown, Vancouver.
When- Numerous dates are available for this mystery game throughout the year.
Timings-  Various time slots are available between 2:00 pm to 6:30 pm.
Where- The starting location is a hidden place near Waterfront Station. Keep a check on your email for further instructions after the purchase.
Tickets-  Go grab your tickets right now from Fever.