How to Learn Archery? This is the first question that comes to mind when you think about learning archery. However, archery is a fascinating sport that excites everybody. It is a popular sport that has been popular in movies and books for a very long time.
Besides, it is a sport that requires dedication, skills, concentration, and control over your body. However, it doesn't matter what your age, gender, and what you are capable of. It's an exciting sport that needs passion to learn and lots of practice.
Furthermore, archery is one of the safest sports. Meanwhile, you still need to be conscious about safety. Your vision plays an important role in this sport and mental strength. You have to be quite focused on your goal without any other thoughts in your mind.
1. How to Learn Archery?
You have to put in a lot of hours of effort to learn archery. Despite being an exciting and adventurous sport, it is not usual to learn archery for everybody. Learning archery requires a proper schedule and correct methods.
However, athletes need to devote a certain number of hours every day to learning. Archery is not just a sport, it is a passionate skill. Without passion to learn and the required determination, you probably cannot manage to learn archery.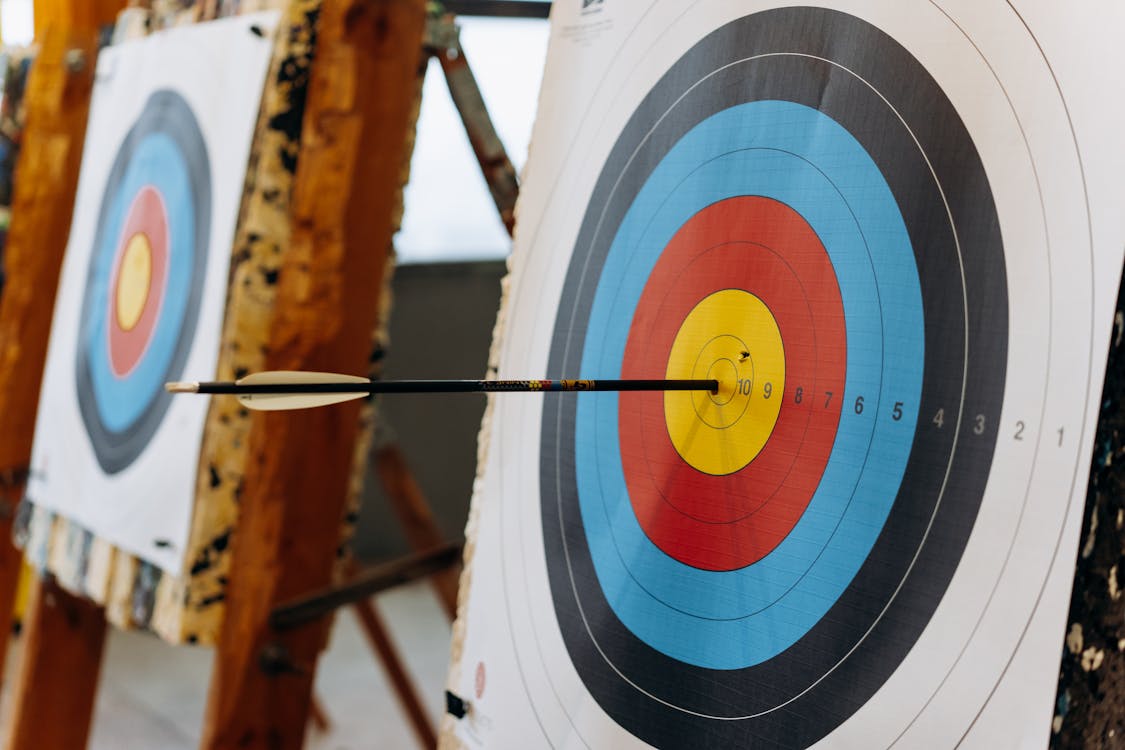 However, once you start learning archery, you will get addicted to it. And it's true! Even if you are pursuing archery as a hobby, you still need to dedicate yourself to it. Meanwhile, as a professional, you will have to practice for months and years to master this skill.
As for how to learn archery, there are certain ways, disciplines, and rules to learn archery. And you must follow all the rules and disciplines of archery to learn it properly.
2. Disciplines of Archery
As you already know, targeting is the most prominent part of archery. There are still different ways of Archery. Besides, if you are going to learn archery, you must know about the given ways of archery.
Para Archery

Bowhunting

Target Archery

Field Archery

3D Archery
Meanwhile, you are not asked to choose any one of them. During learning you will eventually cross over these ways. Though, when you learn at a higher level, you perhaps need a particular way to learn.
2.1. Target Archery
Target Archery can be learned indoors as well as outdoors. You need to keep a minimum of 18 meters of distance when practicing indoors. While, 30, 40, or 50 meters of distance should be managed when learning outdoors. It can go up to 70 meters too.
Depending on your age and skills, you can adjust your distance. This is one of the disciplines of archery out of the given 5 disciplines. It is among the renowned modern forms of archery. Also, it is used at Olympic Games, World Games, Paralympic Games, etc.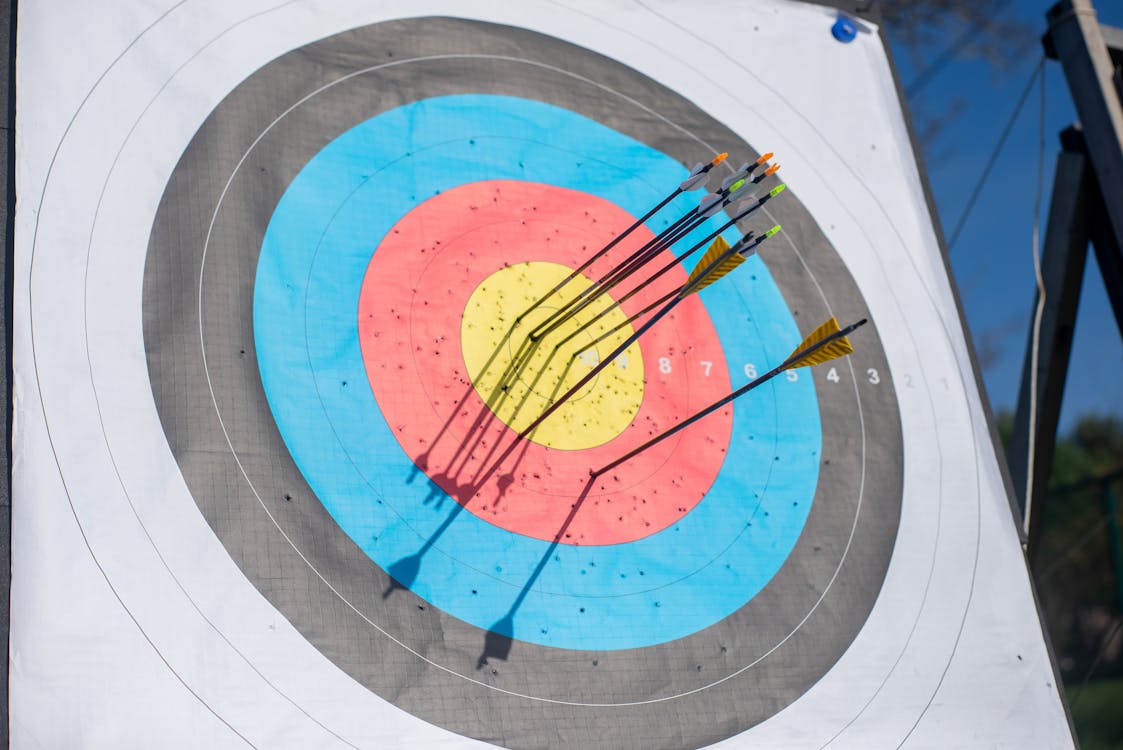 Further, this event was first held in 1931. The Target Archery Discipline is also used in the World Archery Youth Championships and the Hyundai Archery World Cup.
2.2. Bowhunting
Bowhunting can also be referred to as bow hunting. It is a procedure of game hunting the animals by archery. Many indigenous people adopted this technique as a hunting method.
You need to stay calm and wait for your target in this method. Then, slowly start moving after looking at your target. Take your position and manage to shoot your target with a bow.
There are three methods in bowhunting: The still method, the Stalking method, and the Glass method.  
2.3. Para Archery
Para Archery is a discipline especially designed for athletes with visual or physical impairment. However, the rules for setting up targets, match play, and competition format are kept the same as the target archery. The para archers are allowed to use assistive devices.
These devices include wheelchairs, release aids or custom drawers, mouth tabs, etc. Furthermore, the selected athletes are allowed to compete with physically fit athletes. However, they can still use assistive devices while competing with other fit athletes.
Besides, the first edition of archery in the Paralympic Games was held in 1960. Since then, it has been managed continuously until now.
2.4. Field Archery
Field archery is one of the disciplines of archery too. Here, you need to shoot at circular targets. These targets vary in size, distance, angles, and height. Archers can shoot by maintaining a distance of 5 to 60 meters.
These targets are yellow and black. There are certain skills you need to be good at to master field archery. Further, these skills include shooting uphill, shooting downhill, distance judging, etc
You must be able to judge the target range and distance from the target. However, you will also have to deal with the changing light conditions on the field. It is an outdoor discipline of archery, which requires a strong concentration and focus on the target.
2.5. 3D Archery
The 3D Archery can also be done outdoors and indoors as well. In this archery, the archers shoot at the 3-dimensional targets. Usually, it looks like an animal. These targets are of different size ranges. So, they can easily mimic animals.
Archers shoot at these given 3D targets. So, they can experience real-life hunting of animals. We can not hurt real animals, as it is a crime. But, for experiencing real-life hunting, 3D archery sport is designed.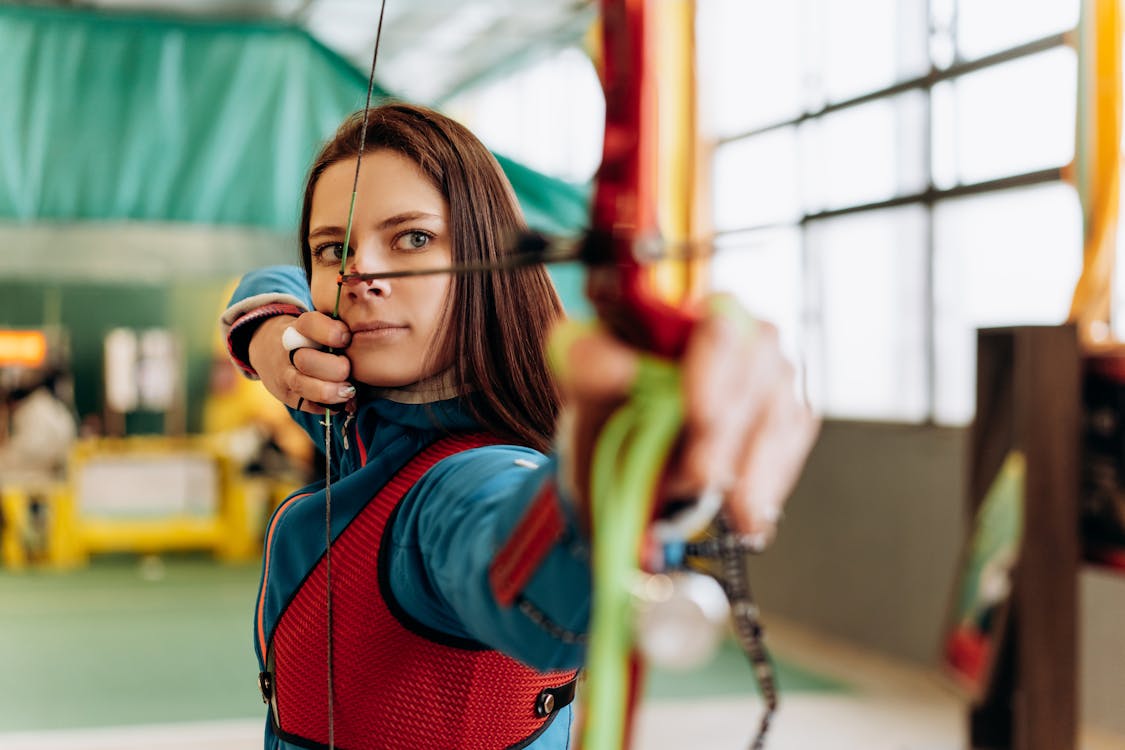 Depending on your terms, you can do it for fun. Either you can participate in 3D Archery tournaments. Besides, there are 25 to 30 three-dimensional targets. Meanwhile, during the tournament, you will not know the locations of these targets. You need to find them gradually.
3. What to do to Learn Archery?
There are many ways to learn archery. You have to find the most suitable way for yourself to learn. Though archery has many disciplines, you can go for either discipline you want. Meanwhile, you don't opt for only one.
There are different tips to follow. However, you cannot follow each tip and way. So, it is a better option to find the best way that suits you better instead of following each tip. If you get stuck in following every way of learning. Perhaps you might end up getting disappointed.
Despite this, you should follow the rules and instructions of your coach. And focus on the right strategy to learn archery. Besides, knowledge is important, so you must know your sport, its disciplines, and its rules.
3.1. Find an Experienced Coach – How to Learn Archery?
Having the correct method and the right person to teach you is always a good way to learn anything. You need to have an experienced coach to assist you during the entire course of learning. So, it is a better option to join a club that has experienced coaches.
You can learn from the masters of the sport, this will help you guide correctly. An experienced coach will teach you the correct techniques to learn archery. They will help you master this skill depending on your potential.
3.2. Master the Fundamental Technique – How to Learn Archery?
The fundamental techniques are listed mostly in provided books of ten pages. These books consist of basic techniques. Hand placement, anchoring, finger placement, aiming, and bow arm are the basic techniques that a beginner must follow.
These skills need to be mastered from scratch. However, an archer must be mentally and physically fit to master these skills precisely.
3.3. Rent Equipment – How to Learn Archery?
Clubs often provide free equipment to beginners and new joiners. Perhaps they will charge you for equipment with a little sum of fee. This equipment works as a tryout. You may never again use them. You can take it as per your choice once you are done learning.
So, it is always a great way to rent the equipment to learn as a beginner. You can change this equipment as per your requirement in future. 
3.4. Be Patient – How to Learn Archery?
You cannot master archery at once as a beginner. You have to give it enough time of practice and constant effort with dedication to learn. Above all, the most important part is to manage your safety first. Shooting an arrow with a bow is just a few seconds task.
But shooting that arrow perfectly at the target requires a lot of training and concentration. You need to follow all the instructions properly to hit your target. Archery is a sport of seconds. Your competition with anyone is a decision of merely a few seconds. However, for these few seconds, you need months and years of practice.
3.5. Enhance Your Physical Conditions – How to Learn Archery?
However, physical conditions are not the primary concern here. Your upper body and arms must be fit for archery. Besides, your arms should be strong enough to have control over your shots. Maintaining your physical fitness not only enhances your physical strength but mental strength too.
Besides, your mental strength is equally important in archery as your physical strength. Lastly, you have to maintain your physique properly, especially your arm strength and your mental strength.
3.6. Practice Daily – How to Learn Archery?
There is no shortcut to becoming a brilliant archer. You need to dedicate countless hours of practice and determination. After all this effort, you can reach a decent standard. However, it cannot still be said that you can be a master with this much effort.
To master archery, there is no limit to practice. When you start a new thing as a beginner, it is always hard. Meanwhile, you need to keep practicing to promote yourself at higher levels. Beginner to intermediate and here to advanced level. You need to put in lots of effort.
Moreover, practicing is the key to success in everything. At each point of learning, you must polish and improve your skills to master archery.
3.7. Choose the Right Equipment – How to Learn Archery?
In case, you need to buy your equipment. As a beginner, you need to select the decent and right equipment with your coaches' guidance. However, the correct equipment includes several things.
These things include finding a correct and right-sized bow. It must be light-weighted enough, so you can be at ease when you pull and leave the arrow with a bow. Meanwhile, arrows must have a good length, so your target could easily get shot.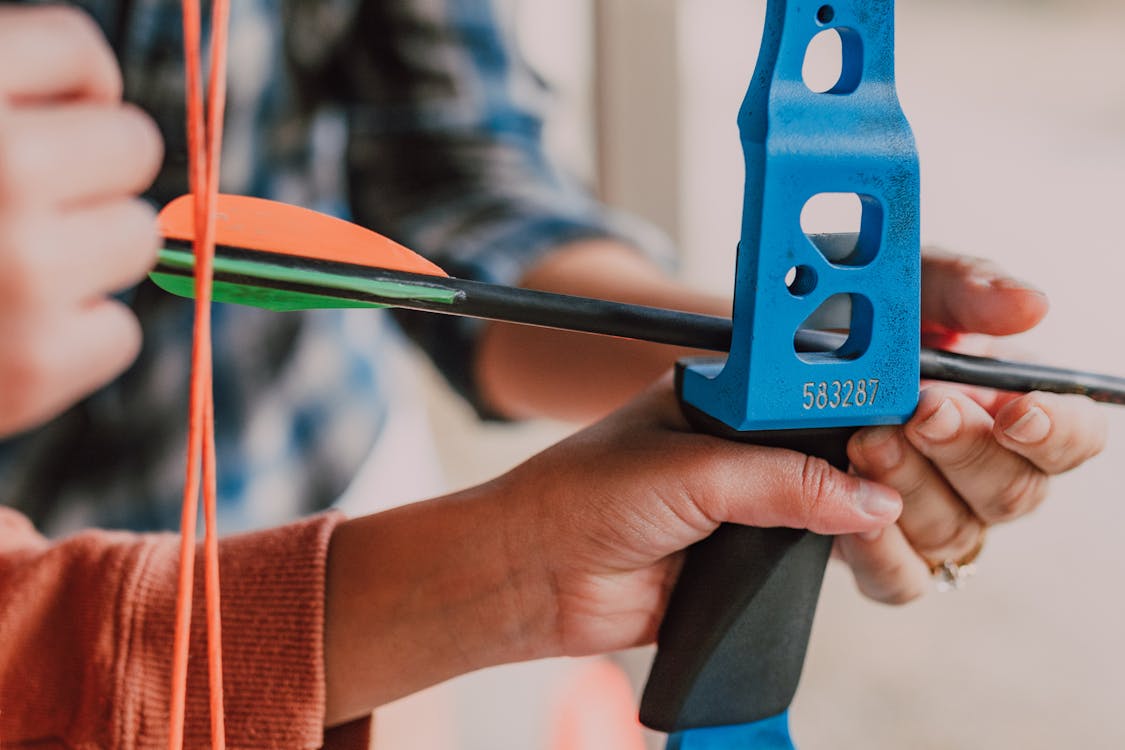 However, you better consult your experienced coaches who are teaching you. They will guide you according to your requirements and learning level.
3.8. Enjoy Learning – How to Learn Archery?
Learning is important and practice is prominent. Besides, enjoying your learning process is the most crucial to mastering any skill. When you start enjoying your learning process, you are likely to put in more effort. Enjoying yourself will not tire you during the learning process.
If you can't forget your mistakes and move on, then you won't be able to learn perfectly. So, you better enjoy yourself and learn from your mistakes. Enjoying means adopting a right and positive attitude. A positive attitude helps you learn precisely and happily.
Finally, you will see the improvement in learning yourself. So, keep learning and keep enjoying.
4. Conclusion
Archery is a fun and loving sport. Meanwhile, this is also a widely popular sport in books and movies. Shooting is a renowned sport as a hobby among youngsters. Besides, it has its place in the Olympic Games and other World Championships.
The game of archery has five key disciplines, namely Para Archery, Target Archery, 3D Archery, Bowhunting, and Field Archery. Also, there are several rules to follow like in other sports. Meanwhile, practicing is the same.
Like any other game or any new thing for which you are a beginner requires constant effort. You need to give a sufficient amount of time to practice. You should practice daily for several hours without skipping.
Meanwhile, if you cannot give enough time daily, try to give it a minimum of 40-60 minutes every day. Learning archery is not a piece of cake, you must have a deep and concentrated focus on your target. So, mental strength is a must to learn archery.
At last, if you are not pursuing archery, try it as a hobby. It's a worthy sport to spend your time on. So, you must go to learn archery without thinking twice.