Vancouver is located on Canada's west coast and is a cultural and environmental diversity hub. Vancouver has a wide range of beautiful and varied landscapes, ecosystems, fauna, flora, and several birds, which can be seen in parks, forests, and sometimes city limits.
Some of Vancouver's most common bird species are Cinnamon teal, Yellow-Rumped Warblers, Northern Flicker, Spotted Towhees, Anna's Hummingbird, Black-Capped chickadees, and much more.
1. Species of Birds in Vancouver
1.1. Cinnamon Teal
This bird species belongs to the family of ducks, males are known for their bright rust-coloured head and underside during breeding plumage. They are primarily found in the marshes and ponds of western North and South America, with a specific breeding range extending from British Columbia.
Their diet consists of both plant and animal food items, with a preference shift toward plants as the season progresses. They are migratory birds with complex patterns not fully captured in the statement.
As these are migratory birds, they are found in Washington during the breeding season. The season starts from mid-May to mid-June.
1.2. Grey Patridge
A great partridge is identified by a brown back, grey thighs and wings, and a white belly. There is also some differentiation among the male and female body types.
The male Patridge is marked with a horse-shoe-shaped pattern, which is brown, whereas females lack this marking on their bodies.
These birds are mostly found in Canada, South Africa, New Zealand, and Australia. They are considered "non-migratory" birds mostly found in huge flocks. Their diet includes primarily tiny seeds and insects. The breeding season for grey Patridge starts in the spring, from late April to March.
1.3. Ruffed Grouse
Ruffed Grouse is a medium-sized bird found across North America's deciduous and mixed-wood forests, including the United States, Canada, and Alaska. These birds are sometimes confused with the grey partridge due to their similar body shapes.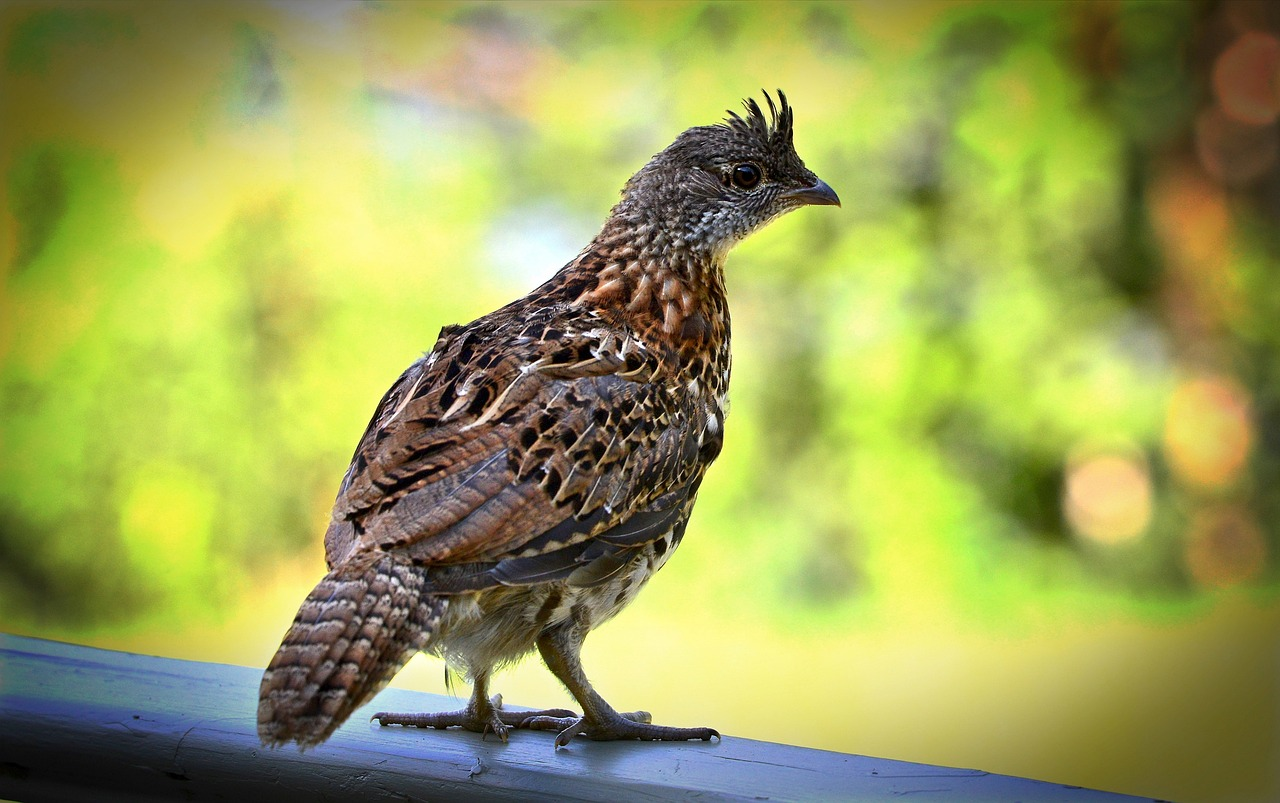 This bird alone is said to have thirteen sub-species across North America, including British Columbia.
1.4. Yellow-Rumped Warbler
It is a widespread bird species and can be seen almost everywhere on the whole continent. These birds change their habitats depending on the season and the place's temperature.
During summers, they are found primarily in extensive deciduous and coniferous forests. They move to park areas and nearby residential areas in fall or winter. They look similar to sparrows but have slight differences.
Males and females share almost the same body patterns and types. The males are much more shaded, whereas the females are comparatively dull. Both males and females have yellow colours on their faces and chests and are strikingly grey during Summer. They somehow turn a little pale during winter.
These birds often travel in large flocks and are quite an active species. Their diet includes small insects and seeds and berries from various trees and plants.
Yellow-rumped warbler's breeding season starts mainly in June and July. The male species of the yellow warbler is said to arrive before the female Warblers and have only one brood.
Colour association is quite an essential part of sightseeing the birds. These little yellow birds are somewhat confused among the residents as some other species that have the same colours and features
1.5. Northern Flicker
Northern flicker, also known as familiar flicker, is a bird from the woodpecker family. It is found in Cuba, Canada, and some parts of Northern America. The birds are mainly mid to large-sized with black lines on the back and the wings.
These birds weigh somewhere around 86 to 167g. The northern flicker is one of those birds with longevity ranging from 6 to 9 years. These birds mostly eat small insects, seeds, and different berries from trees and plants.
1.6. Anna's Hummingbird
Anna's hummingbird is a mid-sized bird found in Vancouver and some parts of Northern America. This bird is known to have a bronze and greenish back, a pale brown and grey chest, and a belly with green wings. They have long and slender beaks.
Male hummingbirds have a pink crown and gorget on their heads, whereas females have a red gorget, darker than males. The male's gorget can look pale brown and greyish when not in sunlight. It is voted as the official city bird of Vancouver.
This bird mostly eats insects and sucks nectar from small flowers and plants.
Anna's hummingbirds are said to be very territorial and are permanent residents of their areas. These are "non-migratory" birds.
1.7. Red-winged Blackbird
Red-winged birds are found mainly in North America and Central America. It is a glossy black bird with an orange mark on the top of the wings. They are about the size of a sparrow but a little larger.
It may wander as far as Pennsylvania and British Columbia during the mating period. The male blackbirds are generally black-coated and have red and yellow marks on their wings, whereas females are paler and a little dark brown. Their diet includes insects, smaller plants, and fruits from trees.
These birds can be easily sighted in Canadian cities such as Vancouver. Stanley Park is a perfect destination for bird sightings and many other outdoor activities almost all species of birds can be sighted there, including red-winged blackbirds.
1.8. Ruby-Crowned Kinglet
Ruby-crowned is a tiny bird found mainly in North America. This tiny bird is an energy powerhouse and can be seen immensely on the lower parts of trees or shrubs. These come under the "migratory birds" section and migrate to the lower mainland during winter.
The diet of this bird includes small insects, plants, and seeds. This bird can be easily sighted in various bird sanctuaries, such as the Fraser River estuary and Reifel Migrate Bird Sanctuary. This bird can be easily sighted in harbours and estuaries and in local parks and residential areas of Vancouver.
A rare bird species, the Ruby-crowned kinglet is said to mate once yearly. Their mating season starts in May and might end in August or September.
1.9. Great Blue Heron
This is a large paddle bird that is found primarily in the areas of Central America, North America, and British Columbia. It resides in wetlands and open sea shores and derives its food from there.
Although The male and female herons have indistinguishable bodies, the males are larger than the females. An average male blue heron weighs around 2.48 kgs in British Columbia, whereas a female weighs about 2.11 kgs.
They have slightly blue feathers and reddish-brown thighs. These birds generally prey on fish and sometimes smaller amphibians as well.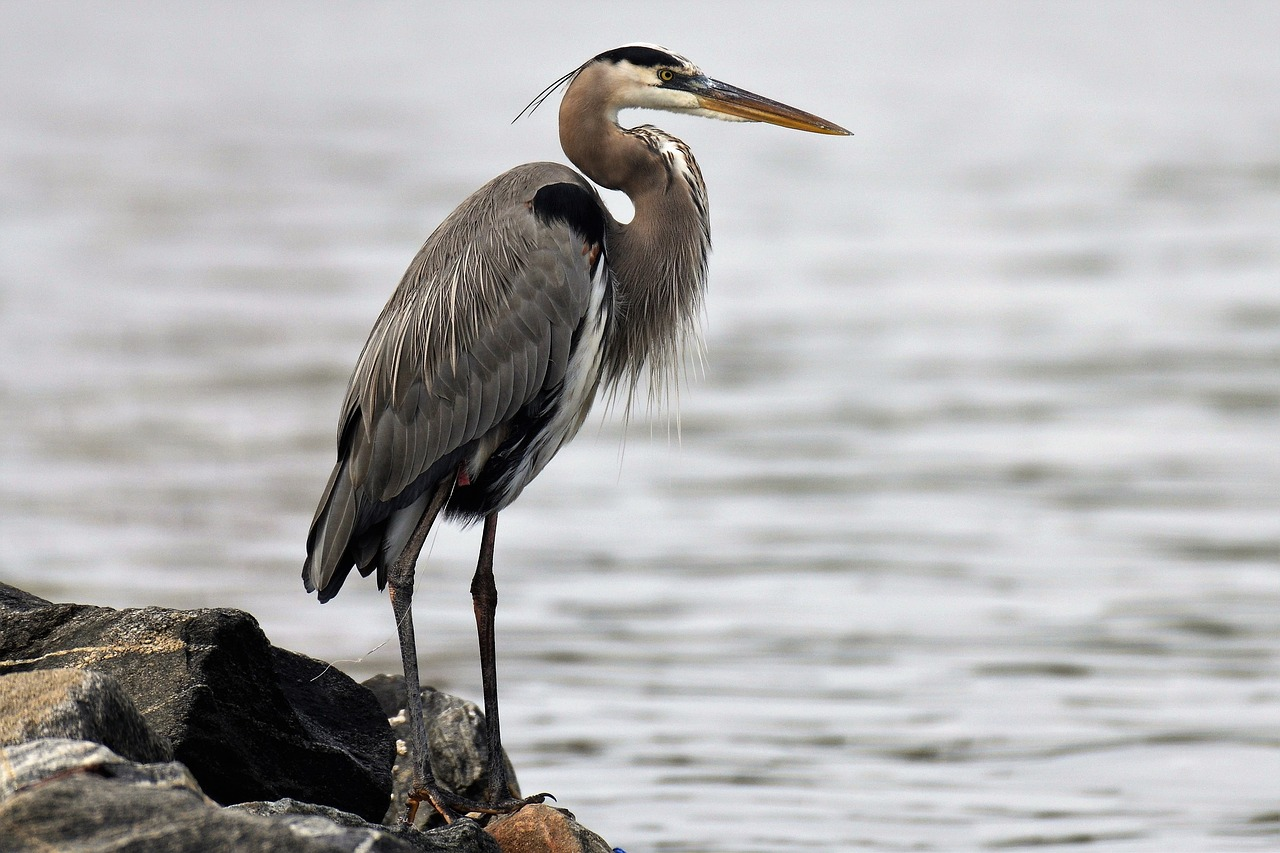 These are migratory birds. December to March is considered when these birds are most active to breed.
The breeding is done in colonies, mostly near swamps and large trees. Their territory is generally enormous, with about 500 nests or even more than that.
1.10. White Crowned Sparrow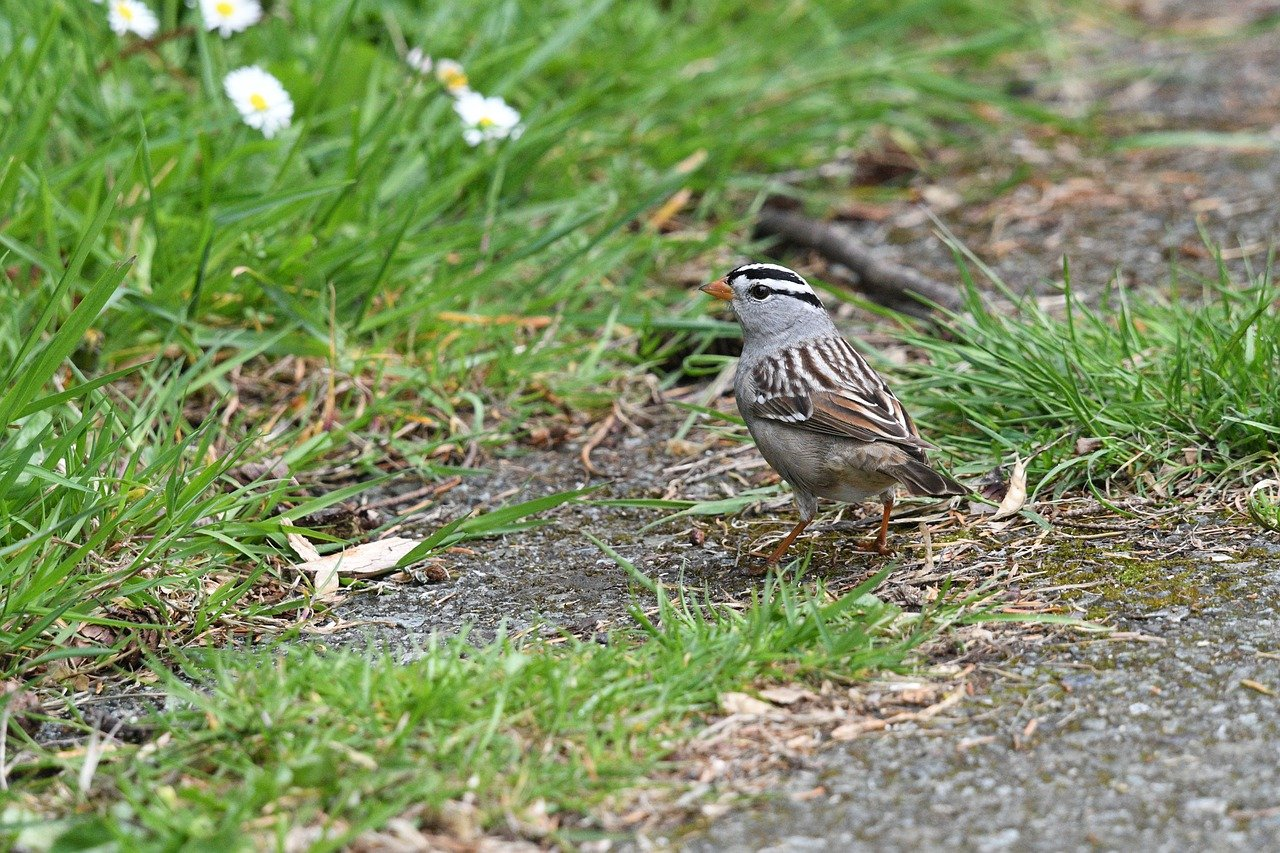 White-crowned sparrow is a very common sighting in Vancouver. This is a Mid-sized bird with white bars on its head. These are migratory birds that migrate from South America to central Mexico. They have a greyish face, black and white stripes on their head, and brownish stripes on their wings.
These birds mainly breed in small bushes and plants in various parts of the tundra and even the Pacific coast. They mostly live in large flocks, and their diet includes small plants and insects. These are the most common species of birds that can be easily sighted in Canada and its parts.
White-crowned sparrows mainly breed in open areas or little shrubby areas, like forest edges, meadows, etc. These birds fly to thickening areas such as thick agricultural fields and even backyards of houses.
1.11. Song Sparrow
It is a medium-sized bird considered the most variable and adaptable species in Vancouver and various parts of Canada. This species is identified by a spot on its breast, dark streaks on the back, and whites on the lower part of the body.
They have a long and rounded tail and a cap on their head. These birds are small enough sometimes to get stuck in spider webs. Their diet mainly includes small insects and seeds.
These birds have their breeding season starting from April and ending in August. They breed one or two times during the whole breeding season.
2. Birds in Vancouver Sightings: Sanctuaries, Parks, and Estuaries
Sighting birds can be very hectic and frustrating if there's no correct information about the location and places where different species of birds are sighted.
Vancouver sanctuaries, parks, and estuaries are made for easy sightseeing of birds and other leisure activities. Some of them are mentioned below:
2.1. Fraser River Estuary
This river estuary is located in British Columbia, Canada, and is spread over 31648 hectares. This estuary, designated in April 2005, starts from the high treacherous mountains of Canada and then ends near Vancouver, in southwest British Columbia.
This is a crucial bird estuary as it has a favourable location for birds to arrive. Millions are attracted here due to the vast river delta.
Fraser River estuary is home to millions of migratory and territorial birds. The location and temperature are essential for birds to survive and adapt. This estuary is a complex and chaotic network of meadows, mudflats, and agricultural lands.
This estuary runs from Delta and Vancouver. This estuary is known as the most productive bird habitat in western Canada, as it is home to almost 1.7 billion migratory and territorial birds. It is the largest estuary in British Columbia and supports a large part of wildlife.
It is open for sightseeing and other recreational activities for people. You can spot almost every bird here, whether local or migrated species. This is an essential hub for diverse fauna and flora to co-exist.
2.2. Reifel Migratory Bird Sanctuary
The Reifel Migratory Bird Sanctuary is approximately one hour from Vancouver, British Columbia, Canada. This bird sanctuary was established in 1967 and is spread over about 648 hectares. The governing body of the Reifel Migratory Bird Sanctuary is the Canadian Wildlife Service.
Many dikes, wetlands, marshes, etc, come under this bird sanctuary. The Reifel Bird Sanctuary is also known for having many bird blinds, walking trails, lookouts, and even a gift shop.
This sanctuary is home to more than 250 bird species. Birds like bald eagles, yellow-rumped warblers, spotted towhees mallards, and Sandhill cranes can be easily spotted in this sanctuary.
It also gives shelter to many migratory birds, such as Western sandpipers, long-billed dowitchers, greater and lesser yellowlegs, etc. According to locals, the best time to visit Reifel's migratory bird sanctuary is mid-April, mid-March, mid-October, or mid-December.
This sanctuary is worth a visit for bird enthusiasts. Easy trails, eye-catching views, and many other adventures for nature and bird enthusiasts.
The Close
Vancouver is home to various songbirds, including sparrows, robins, warblers, and finches. Parks and green spaces provide suitable habitats for these species. Vancouver's coastal location attracts seabirds like gulls, cormorants, and shorebirds. The city's commitment to green spaces, conservation efforts, and a generally mild climate contribute to the rich biodiversity of bird species.