Nova Scotia, Canada's Long Lake Provincial Park is a stunning natural setting. The park is a well-liked destination for those who enjoy the outdoors and environment since it has a beautiful lake, thick woodlands, many trails and a diversity of fauna. You will find all the information you require in this guide to help you organize your trip to Long Lake Provincial Park.
1. Location and Access of Long Lake National Park
Inside the Halifax Regional Municipality and located about 15 minutes from the heart of Halifax is the Long Lake Provincial Park. Northwest Arm Drive and St. Margaret's Bay Road both lead to the park. The park has a number of parking areas, including lots for those beside the lake and the main trail and entrance.
2. Services and Activities
For visitors of all ages, Long Lake Provincial Park provides a range of services and activities. Following are a few of the park's most well-liked activities:
2.1. Hiking
There are several easy to moderately difficult hiking trails accessible in Long Lake. The routes lead tourists through the terrain and rocky outcroppings, through thick forests, and around the lake. The well-marked trails provide breathtaking vistas of the park's unspoiled splendor.
2.2. Swimming
Throughout the summer, Long Lake is a well-liked swimming location. The lake has a sandy beach and a dedicated swimming area, and it water is very clear. During the busiest season, lifeguards are on duty.
2.3. Kayaking and Canoeing
Visitors to Long Lake may bring their own kayaks or canoes to paddle in or may hire them from the park. The tranquilly of the lake makes it a perfect back ground and great place for paddling and walking.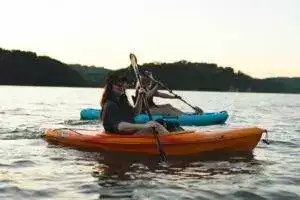 2.4. Picnicking
The park has a number of picnic spots, including ones by the lake and close to the hiking routes. Guests have the option of bringing their own snacks and beverages or using the park's concession booth.
2.5. Fishing
From the many species of fishes, the most common fishes found in Long lake include trout and bass  If a visitor has a valid fishing licence, they can fish from the water, shore or from a boat.
2.6. Viewing wildlife
Deer, coyotes, and a variety of bird species can all be seen in Long Lake. Tourists are urged to take care to avoid approaching animals and refrain from feeding it.
3. Services and Facilities
To improve the experience of visitors, Long Lake provides a number of amenities and services. Some of the parks and the park staff most crucial amenities and services are listed below:
The park is equipped with a number of restrooms, including those along the street, the lakeside walk, and the main entrance.
Also, the park also has store concession stands which sell eatables including many snacks, ice cream and drinks.
Many picnic places with tables and benches are scattered around the middle section of the park.
The park is equipped with a number of parking lots, including those accessible by the lakeshore loop trailhead and the main entrance.
brochures, Map, trail name, and other pertinent information about parks and the park are available to visitors at the information kiosk.
During the busiest months, lifeguards are on duty all day along the lakefront.
4. Advice for Traveling
The following advice will help you get the most out of your family camping trip to Long Lake Provincial Park:
Dress accordingly by donning warm, cosy footwear and outfits that are appropriate for the weather.
Bring water and snacks; there aren't any eateries or shops open inside the park, so it's a good idea to pack plenty of your own.
Respect wildlife by keeping your distance, never feeding it, and never approaching it.
Respect park regulations: Observe all established park rules and guidelines, particularly those that pertain to hiking, camping, fishing, and swimming.
Remove all trash and litter, and leave the street, park and parking lot in the same spot and condition that you found it.
5. Things to Avoid at the Park
Don't litter or leave trash behind: It's crucial to maintain the cleanliness and beauty of Long Lake Provincial Park because it's a lovely natural environment; so carry dispose the rubbish outside the property. 
Keep your distance from the wildlife: Moose, bears, and other creatures can be found in Long Lake and its important to respect their habitat and keep a safe distance when observing them.
Don't feed the animals: Avoid feeding the animals because doing so could make them reliant on people for food and be hazardous to both the animals and people.
Avoid causing environmental damage: Long Lake is a protected area, and doing so would be against the law and bad for the ecosystem. Don't destroy plants, chop down trees, or tamper with rocks or other natural elements.
Swim in specified places only: Swimming in undesignated areas can be risky owing to underwater dangers including rocks and currents. Long Lake Provincial Park contains designated swimming sites.
Avoid lighting fires where they are not allowed: Long Lake Provincial Park has designated fire pits for campers, and setting fires there can be hazardous and environmentally damaging.

Image by Marko Tomic from Pixabay

Avoid using motorized vehicles: In some areas, motorized vehicles are are not allowed since doing so might harm the environment and disturb wildlife. Long Lake has authorized locations for motorized vehicles.
Respect other campers: Long Lake Provincial Park is a well-liked camping location, therefore it's crucial to keep noise levels down. Reduce the volume of your music and observe quiet times.
Do not enter private property without permission: Long Lake is surrounded by private land, so it is crucial to respect their boundaries.
Conclusion
In conclusion, outdoor enthusiasts and those who enjoy the outdoors should make a trip to Long Lake Provincial Park in Nova Scotia. Visitors have a special opportunity to connect with nature and take part in a variety of outdoor activities thanks to the park's magnificent lake, lush forests, and variety of wildlife.
Long Lake Provincial Park has everything you need for a terrific day in the great outdoors, including well-marked hiking routes, a designated swimming area, picnic spaces, and amenities like restrooms and a concession stand. You may be sure to have a fun-filled and gratifying trip at Long Lake  if you remember to abide by park regulations and respect the environment.