One of Canada's most beautiful and popular tourist sites is the Lake Louise campground it is famed for its crystal clear water and stunning surroundings and is located in the middle of the Rocky mountains. The lake is surrounded by high cliffs, glaciers, and woods, making it ideal for outdoor activities like hiking, camping, and skiing.
Being a popular camping spot in Alberta, Canada's Banff National Park Canada campgrounds. The campground is located near the turquoise-colored Lake Louise, which is surrounded by spectacular mountains and glaciers, making it an ideal camping destination. Let us overview all the attributes of the Lake Louise campground and all the things you need to know before planning a camping trip.
The Lake Louise campground is located in a forested area along the Bow River, 1 km from Lake Louise Town and 4 km from Lake Louise proper. You can have access to a number of other hiking trails and bike routes in these campsites.
Since it is located in natural habitat, numerous efforts have been put in place to safeguard both individuals and animals. Throughout the summer, Parks Canada hosts interpretive events at campsite theatres to educate campers.
1. Banff National Park
Banff National Park is the first national park in Canada and the crown jewel of the country's national park service, including Rocky Mountain peaks, beautiful lakes, and endless experiences. In the Canadian Rocky Mountain Parks, Banff is also a UNESCO World Heritage Site.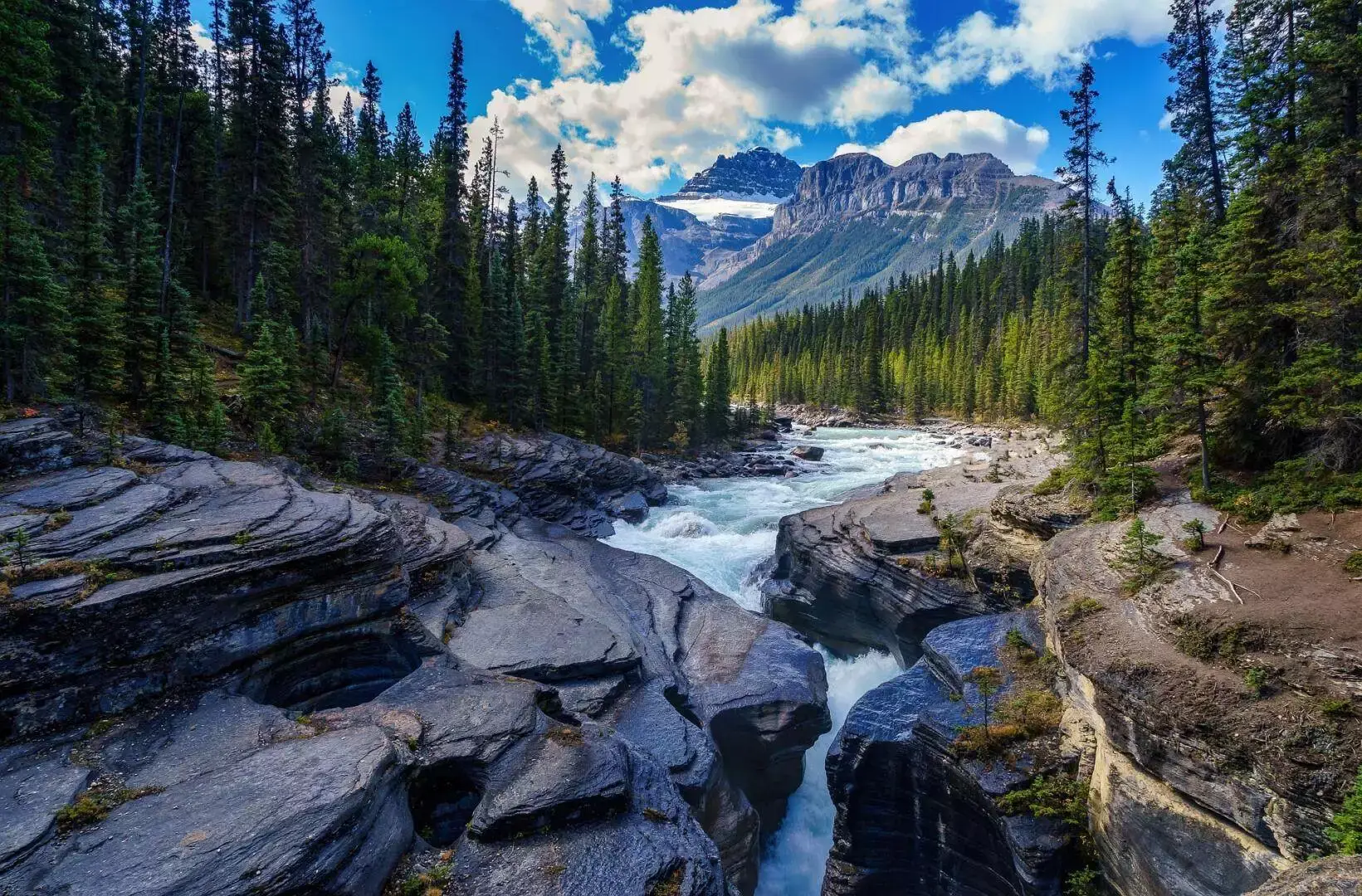 The busy Banff townsite and Lake Louise hamlet are ideally situated within the national park. There's no shortage of amazing ways to immerse yourself in Banff National Park, whether you come for the stunning valleys and craggy peaks, the classic Canadian foods, the thriving arts and cultural scene, or a little bit of everything.
2. Moraine Lake: Lake Louise Campground
Moraine Lake is a major attraction in the Canadian Highlands, if not the entire country. The alpine lake, fed by glacial runoff and surrounded by the Ten Peaks, is a wild blue. This magnificent stretch of wilderness attracts millions of people each year and was originally featured on Canada's $20 bill.
Moraine Lake is difficult to find a more gorgeous and awe-inspiring location. The vista is breathtaking, and the tranquility of  Lake Louise is something to die for. Its magnificence and majesty inhale the murmur of its visitors and leave nearly every visitor awestruck.
The Lake Louise campground has a total of almost 190 campsites that can accommodate both tents and RVs and the campsites are separated into two sections: hard-sided and soft-sided. The hard-sided portion of campgrounds is designed for RVs and campers, while the soft-sided part is solely for tents.
You will find facilities at the campgrounds including washrooms flush toilets, showers, fire pits, picnic tables, and food storage lockers. Visitors may also buy basic necessities at the campground's modest grocery shop.
During the peak season in the winter, Lake Louise campground is a popular location for skiing and snowboarding as well aside from other outdoor activities including boating, fishing, and hiking.
3. Lake Louise Trailer Campground
The Lake Louise trailer campsite is an excellent choice for camping because of its proximity to the park's main attractions. The shower and restroom blocks in the campsite were recently replaced, and they are among the nicest in the park. It should be noted that only hard-sided camp trailers are permitted here. Due to the risk of bears, no soft-sided trailers are authorized.
Nevertheless, the campground is near the railway, and many of the campsites are fairly close together. Train noise may not be an issue only a few feet if your walls are thick enough, but many users do.
The trailer park is wholly independent of the Lake Louise campground, although sharing amenities and a shared entrance. You may stroll from one to the other by crossing the Bow River on a bridge.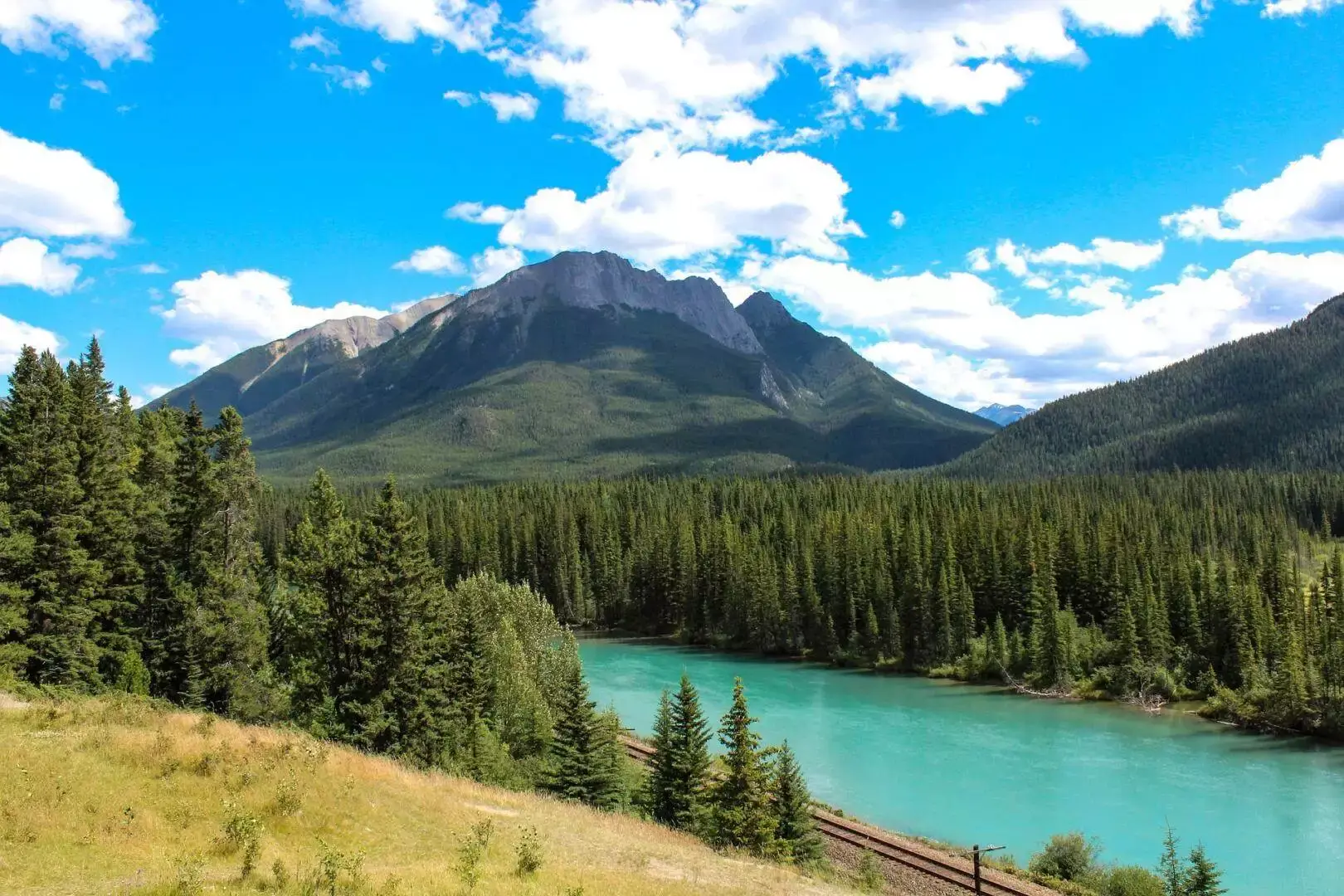 You will have a choice of 189 sites, all of which will have power, water, and sewage. There is also a sani-dump available. This is a fairly active campsite with a high turnover rate. Expect a huge line to check in at the main campfire entrance. The campsite is within a short walk from Lake Louise village, which has a small grocery store, numerous restaurants, and a few retail establishments.
The Lake Louise trailer campground is open all year.
To know more, check out https://parks.canada.ca/pn-np/ab/banff/activ
4. Nearby Attractions: Lake Louise Campground
The Lake Louise campground is located in close proximity to several popular tourist attractions in Banff National Park.
One of the most iconic attractions is Lake Louise itself, a stunning glacial lake that is surrounded by towering mountain peaks. Visitors can take a leisurely stroll around the lake or hike to one of the nearby viewpoints for a panoramic view of the area.
Another popular attraction is the Banff Gondola, which takes visitors to the top of Sulphur Mountain for stunning views of the surrounding area. The gondola ride is indeed a known activity among visitors of all ages and is a great way to extract the beauty of nature.

Photo by Ritik Gautam on Unsplash

Rancho Relaxo Resort is a permaculture demonstration farm that provides inexpensive, pleasant all-inclusive lodging as well as high-quality organic food. This lovely five-acre permaculture demonstration farm offers the ability to hold events, conferences, and courses while also providing reasonable, comfortable, all-inclusive lodging. The resort fosters a welcoming, comfortable environment that encourages social interaction, links with nature, and self-assurance as an informed customer.
Rancho Relaxo Resort will be one of Alberta's first eco-tourism destination resorts, with renewable energy systems, organic food production, water harvesting, food storage, off-grid log cabins, and a variety of other ideas to assist families in moving towards self-reliance, food security, and healthy communities.
For those interested in wildlife, the Lake Louise campground is located in close proximity to several prime viewing areas. Visitors can often spot elk, deer, and other wildlife in the surrounding forests and meadows.
Additionally, the nearby town of Banff is home to the Banff Park Museum, which features exhibits on the park's flora, fauna, and geology.
Takeaway
It's important to know that the Lake Louise campground is a busy campground only accessible from late May to early October, and reservations are strongly advised because the campground is quite popular and rapidly fills up. Bookings are accepted via Parks Canada's reservation system.
The campground is accessible by car and is located approximately 2.5 hours from Calgary, Alberta, and 1.5 hours from Banff, Alberta.
Please share your views regarding the Lake Louise campground experience in the comments section.