The small town of Canmore, Alberta, is one of the most beautiful mountain towns in Canada and has become a year-round destination for outdoor activity enthusiasts as it offers cross-country skiing, whitewater rafting, hiking, and mountain biking. And after outdoor adventures, you are bound to get hungry. With some of the best and most amazing restaurants in Canmore, the city comes with a wide variety of options, ranging from pubs and breweries to fine dining with stunning scenery.
Top Restaurants in Canmore
Canmore houses some of the best and first-class restaurants with fine dining and a great ambiance. Worry no more if you are confused about which restaurants you should visit. Here are the 15 best restaurants in Canmore, Alberta.
1. Crazyweed Kitchen
Crazyweed Kitchen is a unique restaurant located in the heart of Canmore, Alberta, and is considered one of the finest restaurants in Canmore by the locals. This restaurant is known for its innovative dishes blending local Canadian ingredients with Asian and Middle Eastern recipes, like masala ribs, Singapore prawn curry, labneh, pickle brine fried chicken, and pan-seared coho salmon, and who knows, it might become one of your top and best choices.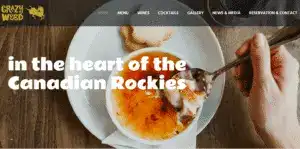 Crazyweed has comfortable and warm surroundings and is very popular among the locals. We are sure this place will be your favorite to dine with your family and friends.
2. Wood Restaurant
If you want to spend a romantic date night or have a family outing, the Wood Restaurant will be the best place to visit; it offers beautiful mountain views which are located in Canmore, Alberta.
Their menu features yam fries, Korean fried chicken burgers, and dry ribs, and they have options such as vegan, vegetarian, and gluten-free. They have a kid's menu, so no worries.
3. Sauvage
Sauvage, in the Rocky Mountains in Canmore, Alberta, is a great restaurant from where you can witness breathtaking views. This restaurant will be your best visit as it is unique because they combine French cooking with fresh and locally sourced ingredients. They have a relaxed and cozy atmosphere, this restaurant is one of the most beautiful in Canmore.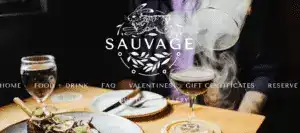 This place is famous for its menus: the hunter-gatherer menu and the plant-based menu. So, if you want to have a fine dining experience, Sauvage Restaurant is the one for you.
4. The Sensory
Located in the Canadian Rockies, the Sensory Restaurant offers an experience that combines gourmet cuisine with a stunning view. The restaurant specializes in the unique flavors of the Alberta region with local and fresh ingredients and is a first-class restaurant in Canmore for tourists as well as locals.
Their dishes like elk osso bucco, beef ribeye, baked goat cheese, mushroom tartar, lamb shank, baked coho salmon, or mushroom risotto are lip-smacking. They offer local craft beer or wine and have innovative cocktails. If you are in the mood for a meal to remember, look no further than The Sensory, one of the best restaurants in Canmore.
5. 4296
4296, located in Canmore, Alberta, is an excellent choice to enjoy classic comfort foods and international flavors. This popular eatery offers an array of delicious and innovative dishes, all made with fresh ingredients and served with attentive service.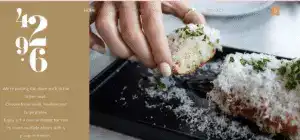 As if the fresh, delicious food weren't enough, 4269 restaurant also prides itself on its elevated dining concept and cozy, warm atmosphere, making it the perfect spot to enjoy a meal with friends and family. They also offer one-of-a-kind cocktails. They serve Asian-influenced dishes with Alberta ingredients. Try their chicken fried maitake, tomahawk tonkatsu, Vietnamese tartare, or wagyu flank.
6. Kain Tayo
Kain Tayo is a hidden gem located in Canmore, Alberta. This charming Filipino restaurant offers a unique and flavorful dining experience that will transport you to the Philippines with every bite. They also focus on international street cuisine from places like Mexico, Japan, Bangladesh, Peru, and more, making it one of the best restaurants in Canmore.
The menu features dishes like adobo, pancit, sinigang, Sri Lankan fish and shrimp, Filipino braised beef, tiramisu waffles, Chinese roast crispy pork belly, and chilaquiles, just to name a few.
7. Gaucho Brazilian Barbecue
If you are looking for an authentic Brazilian barbecue experience, head to Gaucho Barbecue in Canmore, another great restaurant in Canmore. This restaurant offers an extensive menu of traditional Brazilian dishes, all cooked over an open flame and served in its cozy, family-friendly atmosphere.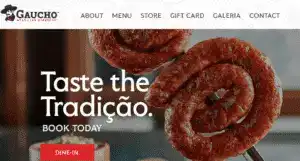 From the classic Brazilian churrasco to an all-you-can-eat buffet, Gaucho offers a unique blend of flavors and is sure to exceed your expectations. Try their dishes like skewers of meat, including picanha, garlic top sirloin, parmigiana beef, rosemary pork, and Pão de queijo.
8. Tank 310
Tank 310, an upscale dining experience in the heart of Canmore, Alberta, located in the majestic Canadian Rockies, offers an exquisite menu of modern Canadian cuisine, prepared with fresh local ingredients. The menu features Alberta beef, confit duck leg, seasonally fresh salads, mushrooms, black garlic butter, and much more. And they have included the best beer pairings to go with your order.
9. Mumbai Local Modern Indian Cuisine
Mumbai Local Modern Indian Cuisine is a one-of-a-kind dining experience, as they offer a modern take on traditional Indian recipes with a creative twist that sets it apart from other Indian restaurants. From the carefully crafted dishes to the vibrant atmosphere, Mumbai Local Modern Indian Cuisine is sure to tantalize your taste buds and transport you to the streets of India.
This restaurant offers everything from traditional dishes to regional dishes; it provides everything you imagine when you think of authentic Indian food and is one of the best Indian restaurants in Canmore.
10. Market Bistro
The Market Bistro in Canmore, Alberta, serves delicious meals that you can enjoy with friends and family. This restaurant serves French and Italian-flavored dishes, and while having meals you can enjoy the stunning views of the Three Sisters mountain range.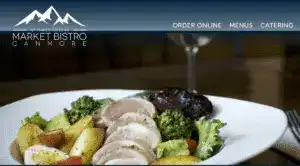 The menu features duck confit, mushroom risotto, mushroom pappardelle, and flatbreads. The market bistro also offers a wide range of cocktails, wine, and local beers.
11. Ramen Arashi
If you want to try ramen visit Ramen Arashi which comes with a cozy atmosphere and friendly staff, in Canmore, Alberta. You will get to try authentic ramen dishes, as their menu has a wide variety of flavorful authentic ramen. Try their yuzu shio ramen, shoyu ramen, ramen salads, and much more. It is one of the best restaurants in Canmore when it comes to ramen.
If you are a ramen lover or trying it for the first time, Arashi Ramen will be the best choice to visit.
12. The Grizzly Paw Brewing Co.
For its craft beer, The Grizzly Paw Brewing Co. is famous. This brewery brings out some of the most flavorful and wide range of craft beers. This largest brewery in town also has a spacious interior of the place, where you can enjoy it with your friends and family.  The brewery also has a separate brewery.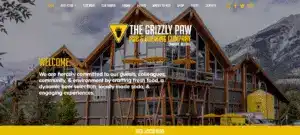 You will find something to your liking as the restaurant offers a wide variety of delicious food.
13. Blake Brewhouse and Distillery
If you want to make a memorable experience in the beautiful mountain town of Canmore, you need to visit this brewhouse. This place is loved by everyone, and surely you will fall in love too with its craft beer.
The Blake Brewhouse and Distillery is a great place to visit with your family and friends, as it provides spacious seating arrangements. Try their curried carrot soup, prawn yakitori, and spicy tuna poke.
14. Stirling Grill and Lounge
Stirling Grill and Lounge is Canmore's top place for delicious meals and it is one of the loved restaurants in Canmore. This place offers a modern twist on classic cuisine with its wide range of menus that feature unique dishes.
With its fine dining experience, drinks, and vibrant atmosphere, Stirling Grill and Lounge will make your visit a memorable one. You need to try the three-course meal.
15. Ankor
In the Canadian Rockies, Ankor is one of the best restaurants in Canmore and the best place to visit, offering a modern twist on traditional Canadian cuisine. This place will surprise you with its modern fine dining experience. With a wide variety of dishes that are made from locally sourced ingredients, you will find something for you.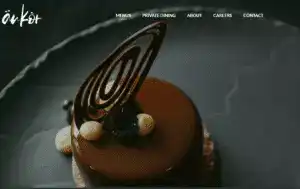 Their menu features smoked mussel vinaigrette, charcoaled mangalitsa croquette, and much more, thus making it one of the finest restaurants in Canmore.
Takeaway
So, what are you waiting for? We created a list of the best restaurants in Canmore, Alberta, that we think would be the best to kick off your journey and make it a memorable one.
Do let me know in the comment section what your favorite restaurants are in Canmore.