The provincial capital of Alberta, Edmonton, is situated along both banks of the North Saskatchewan River, almost in the center of the province.
Edmonton is also the cultural center of Alberta, boasting top-notch theatres, top-notch museums, a thriving music scene and top-notch galleries.
The residents of Edmonton are extremely fond of the occasions that they host and are recognized for putting together some of the finest inventive, and exciting festivals.
The metropolis, which has a population of over a million, is among the coldest in the entire world.
Edmontonians enjoy the festivals and events in winter, such as Ice on Whyte and Deep Freeze, because they both offer crazy and exciting activities that will cheer you up no matter how cold it is outside.
Make sure to include these activities on your bucket itinerary of things to do in Edmonton, whether you're visiting to take part in one of the numerous incredible festivals or you want to learn more about the history and culture of the city.
Here Are the 12 Best Things to Do in Edmonton:
1. Shop at the West Edmonton Mall
The West Edmonton Mall is not just the biggest mall in the country and among the largest in the world, but it is also a well-liked vacation spot.
The complex is equipped with an aquarium, stores, a hotel, an ice rink, theatres, and restaurants.
Four cinema complexes, a sizeable event space, a miniature golf facility, water slides, and amusement parks are all part of The Mall.
The vast 490,000 sq m mall is home to more than 800 stores and facilities. The mall features well over 20,000 parking spots as well as over 32 million people annually.
The mall's attraction is further increased by themed sections designed to mimic the ambience of well-known tourist destinations around the world.
Although Bourbon Street, a recreation of the famous New Orleans street, is possibly the best spot to find Creole cuisine and musical performances, Europa Boulevard, for example, boasts a large number of stores with European-style facades and is home to some well-known fashion labels.
A number of family-friendly rides, including a triple-loop roller coaster, can be found at Galaxy Land, one of the largest indoor, covered amusement parks in the world.
The World Waterpark, which was recently renovated, is also entertaining. It is the biggest such complex in North America.
Among the attractions are 83-foot-tall water slides and the world's largest wave pool. As one of the top things to do in Edmonton, the park offers a variety of rides that vary in difficulty.
Location: 8882 170 Street NW
2. Visit Elk Island National Park
The wood bison and the pygmy shrew, the largest and smallest terrestrial animals in North America, respectively, can be found in Elk Island National Park. Only 35 kilometres to the east of the town is where the park is located.
Although the 194 sq. km park is small, it is pretty incredible. It is also home to beaver, mule deer, porcupines, moose, wolves, lynxes, and coyotes in addition to these species.
Double-crested cormorants, Red-necked grebes, American bitterns, great blue herons, and red-tailed hawks are among the birds that can be seen in the park. A bison conservation center is also located there.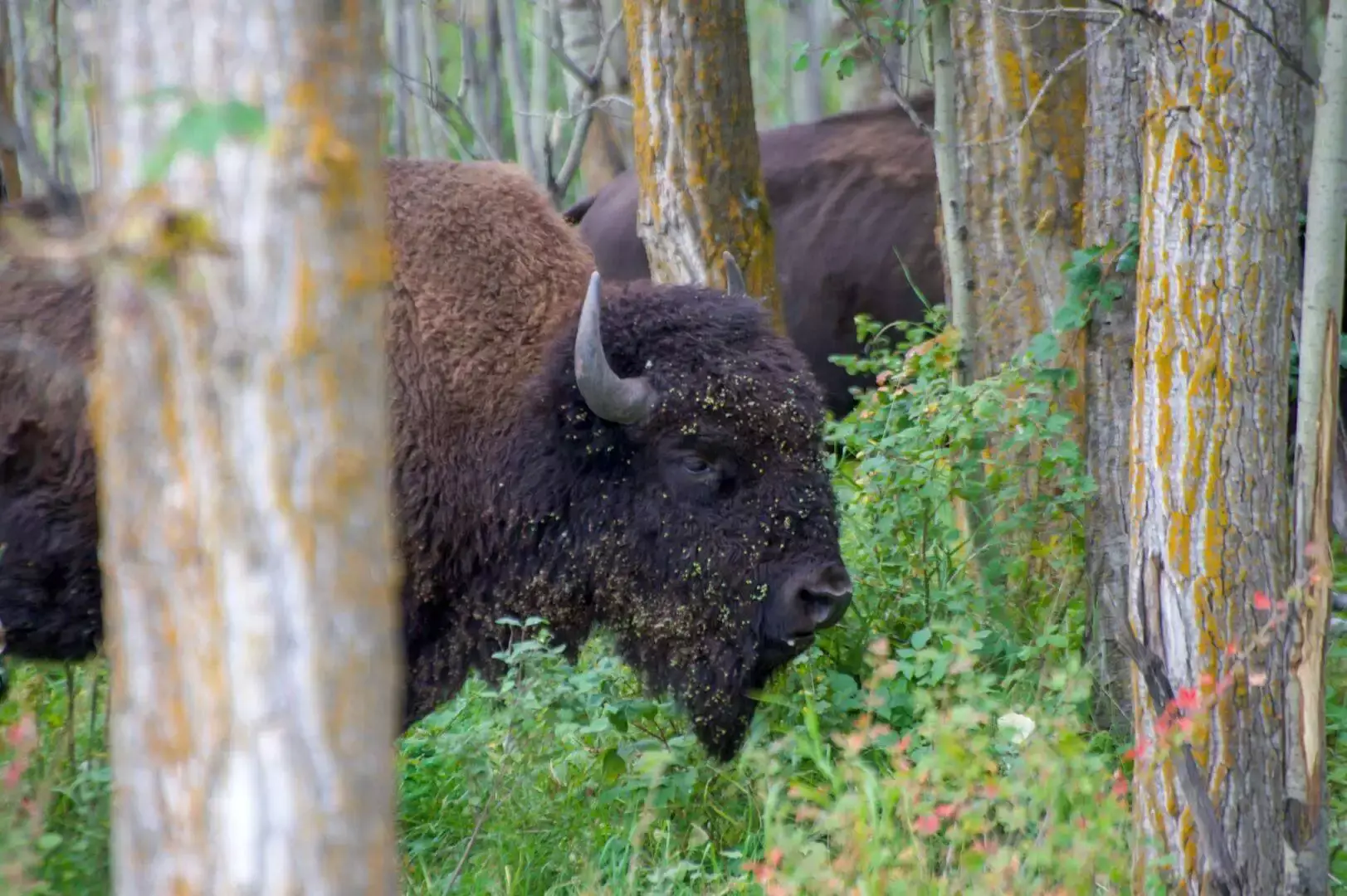 The main attraction of Elk Island National Park is the large herd of buffalo that grazes over a specified area.
Camping, trekking, motorcycling, paddling, and canoeing are among the summertime activities. Snowshoeing and Cross-country skiing are winter activities.
A UNESCO Biosphere Reserve has also been established in the Beaver Hills area, which is home to a wilderness center, a bird reserve, and a night sky preserve.
Because it is a component of the Beaver Hills Dark Sky Preserve, the park is a fantastic location for stargazing. There's even a chance you'll see the Northern Lights.
Elk Island National Park will undoubtedly offer everyone a great time and is one the best things to do in Edmonton.
Location: 54401 Range Road 203, Fort Saskatchewan
3. Explore Royal Alberta Museum
The Royal Alberta Museum moved to a brand-new location in 2018 and is presently the largest museum in western Canada. Without a doubt, a trip to such a state-of-the-art institution is a worthwhile experience.
The Royal Alberta Museum provides visitors with an experience they won't get anywhere else by vividly narrating the narrative of its people, culture, and history.
It houses a fascinating combination of year-round temporary exhibits and continuous perpetual natural historical and cultural history displays.
Astonishing features include the profusion of fossils from the dinosaur & ice age, the big tank with native fish, and the living insects, along with some uncommon and enormous species.
Recent additions include a sizeable children's gallery, a bigger bug area with actual invertebrates, and an even more airy nursery. Numerous travelling exhibitions from across Canada, as well as the world, are displayed in the main room.
The culture areas of the gallery look at indigenous civilizations using artifacts from the Blackfoot, Cree, and other First Nations.
A café and a large gift store are also on-site amenities. The museum is one of the top things to do in Edmonton since it provides children with a hands-on exhibit and an insect exhibit that they can enjoy.
Location: 9810 103a Ave NW
4. Visit Muttart Conservatory
On the south bank of the North Saskatchewan River, four pyramid-shaped greenhouses hold exotic and rare species of plants.
It is a city-run botanical garden with four pyramids, three greenhouses, and open-air gardens.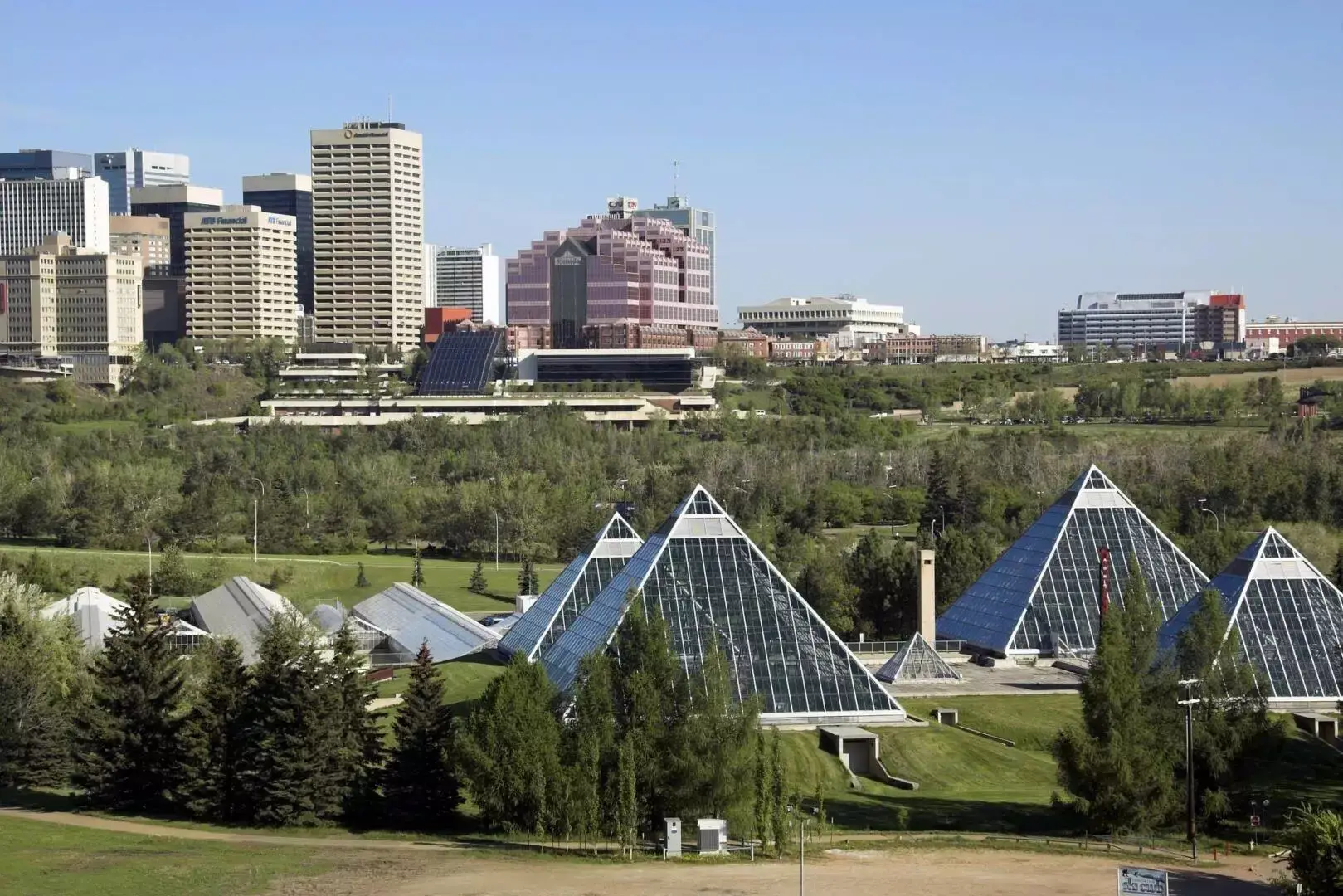 The four pyramids were created by British architect Peter Hemingway and are arranged around a central core. They keep various plants from various biomes, such as Asia, Australia, and Canada.
Each pyramid features a unique environment that symbolizes a variety of biomes from around the world, from the tropical temperatures of Myanmar and Fiji to the temperate pavilions, including its  American redwoods and Australian eucalyptus.
The Edmonton Conservatory is the leading horticulture facility in the city and one of the top things to do in Edmonton since there are so many different kinds of plants on display.
While observing from the hill well above the river, the gleaming pyramids of the Muttart Conservatory blend brilliantly with the skyscrapers of downtown Edmonton.
Location: 9626 96A Street NW
5. Edmonton Valley Zoo
Since it initially began operating in 1959, the Edmonton Valley Zoo has placed a high priority on researching vulnerable animal species.
Despite being a family-friendly establishment, it is home to approximately 350 creatures, including almost 100 different species, each foreign and indigenous to Alberta.
When they are walking around with the animals, the pet owners usually engage in conversation with onlookers. The zoo also supports endangered species and seeks to raise public awareness of them.
The zoo is divided into eight distinct sections, each of which is home to a different species of animal from a different region of the world.
The Inner Zoo, which houses meerkats, red pandas, otters, alpacas and emus, is the oldest section of the zoo.
Famous animals to visit include snow leopards, arctic wolves, red pandas and lemurs. Each is kept in a habitat intended to mimic its native environment.
Even a Sri Lankan elephant is present. Whether you enjoy large or little animals, a visit to the Edmonton Valley Zoo won't let you down.
Carousels, paddling watercraft, as well as a miniature train, are all available at the zoo.
Location: 13315 Buena Vista Rd
6. Visit the Ukrainian Cultural Heritage Village
A number of old buildings have been reconstructed in the location, known only as the Village, as well as a Ukrainian church's dome, which is visible in the distance.
Just outside the city, this outdoor museum is a statewide historic site. The countless immigrants from Bukovina and Ukraine who immigrated to what is now Alberta in the 1890s are preserved at this open-air museum, which was built beside the Yellowhead Highway in the 1970s.
It has more than 30 historic structures, gardens, and memorials that portray residents' daily lives from 1899 until 1930.
A blacksmith, a marketplace, and an old general shop are just a few of the living historical sites you can explore. Workers are performing tasks that were commonplace back then while clothed in period attire.
Watch people tending to gardens, baking bread, forging iron, and carving wood.
A portion of the enjoyment is engaging with the uniformed guides who are available to explain what life was truly like for such original inhabitants.
If at all possible, schedule your visit to overlap with several of the numerous seminars or activities that are held all year long, including the commemoration of Ukraine's national day, harvesting celebrations, and cookery lessons.
Location: Hwy 16 E Tofield
7. Alberta Legislature Building
The Legislature Building is situated in the middle of a park-like area that housed Fort Edmonton.
The building is impressive and handsome, and the terrace offers stunning views of the opposite bank of the North Saskatchewan River.
The greatest way to discover the past of what the locals affectionately call the Ledge, such as its architecture and hidden secrets, is through guided tours. Spending time walking the gardens around the building is a pleasure on any visit.
Additionally, make a stop at the Legislative Assembly Visitor Center, which is nearby and features noteworthy exhibitions on local heritage, art, and culture.
It is one of the greatest things to do in Edmonton since it has a great store, at which you can purchase handcrafted items manufactured everywhere in Alberta as well as a distinctive 4D interactive adventure that provides an amazing visual real background of the area and its population.
Location: 10800 97 Ave NW
8. Explore The Art Gallery of Alberta
Visual artwork with an emphasis on Western Canada is the focus of the Art Gallery of Alberta, which is a twisting modernist building on Sir Winston Churchill Square.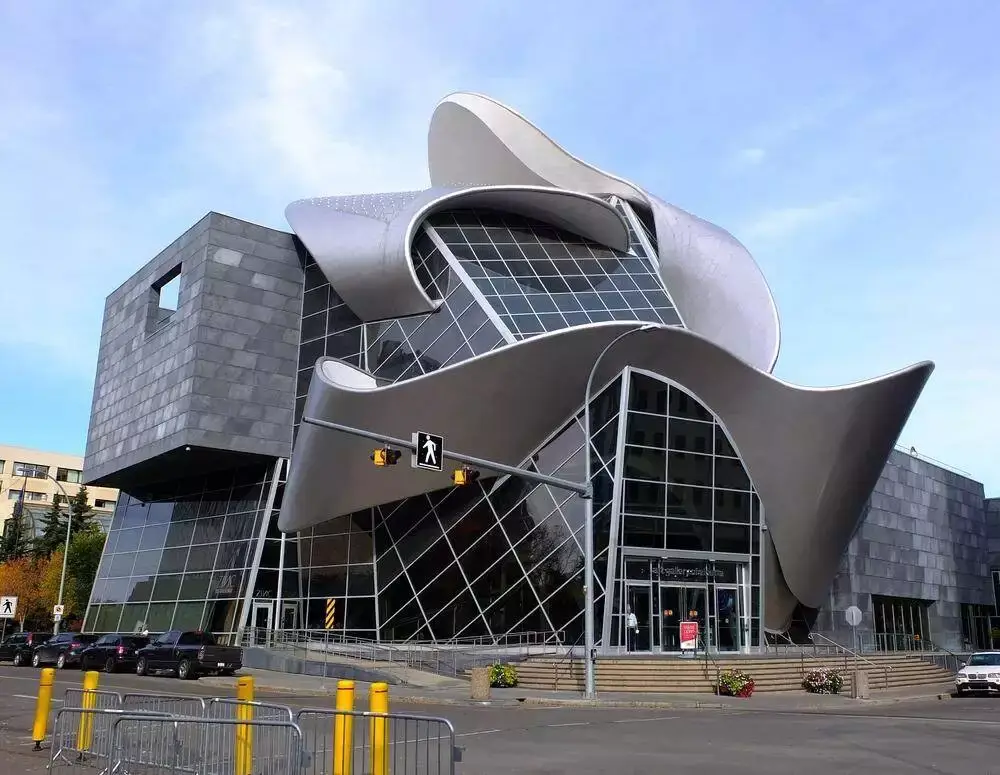 The gallery also hosts revolving and portable exhibitions in combination with a huge library with more than 6,000 pieces.
The site also has a theatre, a gift shop, and an eatery.
You can plan a personalized, personal, guided trip based on your preferences.
The facility offers a variety of educational programs for all age groups in addition to lectures and seminars.
Location: 2 Sir Winston Churchill Square
9. Visit the University of Alberta Botanic Garden
If you enjoy flowers and gardens, another site to visit in Edmonton is the University of Alberta Botanic Garden.
The largest botanical paradise in the area, this 240-acre park was founded in 1959 and includes 160 acres that have been conserved in their natural state.
The additional 80 acres contain several notable sights, including a Japanese Garden, a big tropical conservatory with butterflies, and numerous displays of numerous different plant species, both outdoors and indoors.
Especially remarkable is the Indigenous Garden, which has plants that have long been used by Canada's indigenous people.
The park recently added The Aga Khan Garden, an approximately 12-acre area with something like a northern twist taking influence from Islamic architecture and landscapes.
In this wonderful park, there are numerous peaceful paths through the forest to wander along,  ponds, calm patios, and waterfalls.
The botanic gardens provide complimentary, strongly regarded walking tours, making it one of the best things to do in Edmonton.
For those who also like classical music, the Edmonton Opera Company's annual Opera al Fresco concert conducted there in June is very significant.
Location: 51227 AB-60 Spruce Grove
10. Fort Edmonton Park
An outdoor museum is Fort Edmonton Park, which you ought to have on your itinerary if you're in Edmonton. With antique structures that have been accurately recreated to depict Edmonton's historical growth,
A classic Hudson's Bay Company fort from 1846, a road from a pioneer settlement in 1885, the expanding provincial capital in 1905, and buildings from the 1920s are among the structures on show.
A lovely woodland parkland, the park has the name of the earliest permanent European settlement in the region.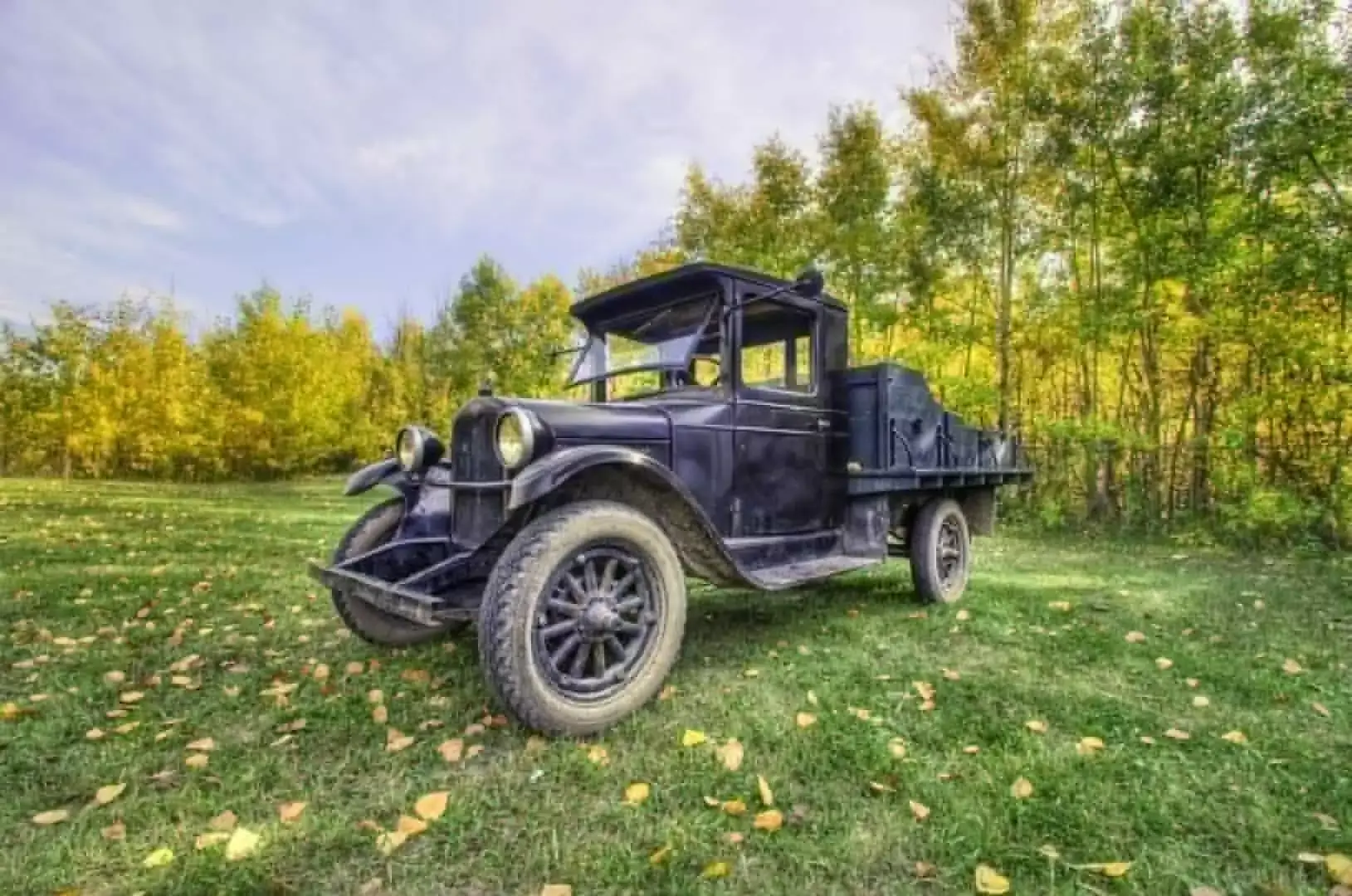 One of the best things to do in Edmonton is to visit the living history museum, which is also the largest in the country. The many vintage methods of travel include horse-drawn wagons and steam trains, which guests can board.
The nearby John Janzen Nature Centre contains exhibits on the local geology and environment.
Streetcars and vehicles are also available for park visitors to utilize for transportation. During public holidays and weekend trips, historical interpreters dressed in period costumes are available to interact with guests, discuss the park's past, and respond to any inquiries.
Location: 7000 143 Street NW
11. Enjoy Various Festivals
The entire year, Edmonton serves as a host to numerous events. It even goes by the moniker Canada's Festival City. One of the most well-known festivals is held between June and July, and it is called Works Arts & Design Festival.
The Edmonton International Fringe Festival, which takes place in August, is the biggest of its sort in all of North America. You can attend the Edmonton International Street Performer's Festival if you are not able to make it to the fringe festival.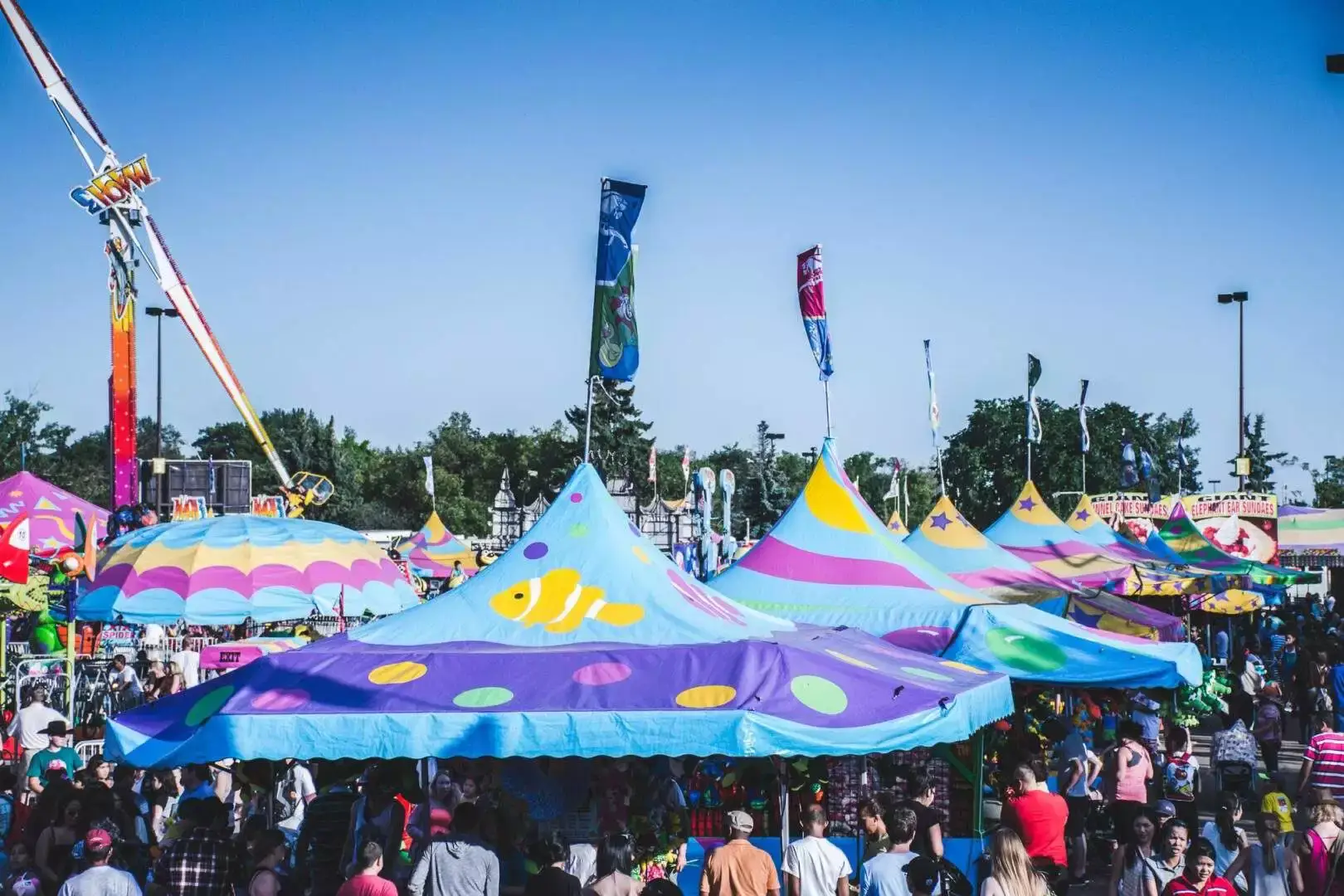 The main summer event is K-Days. It takes place annually at July's end when the frenetic Klondike Gold Rush of 1890 is brought to life once again.
Street parties, dances, parades, musical concerts, gold dredging, and a circus bring the whole city to life. The 10-day festival has shows, rides, and other entertainment.
If you intend to enjoy the festival in Edmonton, ensure that you make your hotel reservations much in advance.
12. TELUS World of Science 
The TELUS World of Scientific (TWOS), a fun, welcoming, and instructive scientific centre in Edmonton, is housed in a modern white structure.
A few of the many fascinating and interactive science and technology exhibits at the location include those on forensics, robots, space, and the environment.
The IMAX theatre shows wonderful films from all over the world, and the Margaret Zeidler Star Theatre planetarium is right next door.
One of the best things to do in Edmonton is to visit the observatories, which offer a variety of spectacular astronomy possibilities. There is a gift store and a restaurant as well.
Along with numerous workshops, lectures, and camps, the TELUS World of Science additionally provides spring and summer camps as well as sleepover camps, scout camps, and senior astronomy lessons.
Its visitors are intended to be encouraged, inspired, and informed concerning the world of technology and science and the significant roles that these fields play in contemporary society.
Location: 11211 142 Street NW
These were the 12 best things to do in Edmonton. The location has plenty to interest everyone, including the TELUS World of Scientific for science lovers, the Art Gallery of Alberta for craft enthusiasts, Fort Edmonton Park for history lovers and much more.