When you go on vacation to a famous city, your time there can rapidly turn into a flurry of shopping, dining, seeing museums and historical sites, and crowds of people; therefore, a park may be precisely what you need to get away from the hustle and bustle of the city, reconnect with nature, and refuel your energy reserves.
Lucky for you, there are many Amazing Parks in Toronto that offer infinite green space, winter wonderlands, and colourful flowers year-round.
More than 1,500 parks can be found around the expansive city of Toronto. These are verdant havens where city dwellers may relax for a few minutes, walk their dogs, promenade, bike trails, have a picnic, and play.
Toronto's parks are simple to reach if you're trying to get away from the bustle of the city and enjoy some local green space.
Here Are the Top 10 Parks in Toronto –
1. Trinity Bellwoods Park
Trinity Bellwoods Park is a multi-use green space that spans 36 acres and is located west of the central business district.
Trinity Bellwoods Park, which is bounded by Queen Street West and Dundas Street West to the north and south, is a popular place for locals to socialize and get some exercise.
This park offers many sports facilities. The park has three baseball diamonds, eight tennis courts and two volleyball courts, an off-leash dog area, picnic areas, a wading pool, a children's playground, and an artificial ice rink in the winter.
This park is well-liked by the trendy millennial generation and is located only a few steps away from most of the city's points of interest.
You can play ball here, go ice rink skating in the winter, or stroll along walking trails surrounded by ages-old groves of trees lit by vintage cast-iron street lamps.
2. Kew park
Kew Park is widely regarded as one of the Best Parks in Toronto.
Toronto's Kew Park, surrounded by trees and has a lot of open space, is a charming park with extensive lawns.
This 6.5-acre park has tennis courts, a baseball diamond, a basketball court, lawn bowling, a wading pool, stunning plants, a concession shop, and a covered picnic area.
3. High Park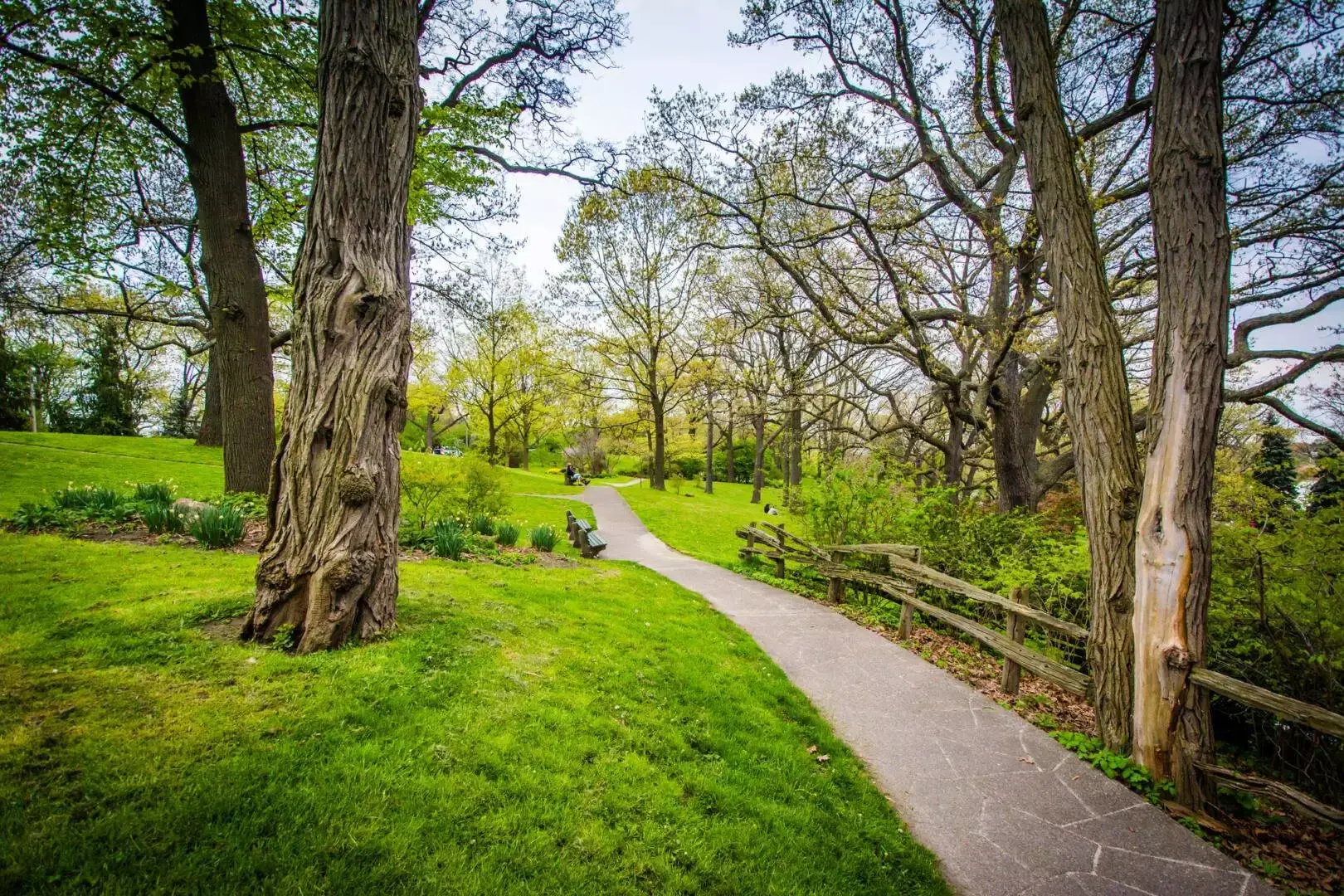 Another best park in Toronto to visit is High Park. There are many lovely walking trails in High Park that run among big trees and along babbling brooks as they follow the land's contours.
You might also take the walking trails that lead down to Grenadier Pond, which is widely regarded as one of the most productive fishing spots in the city. This would be a more tranquil option.
High Park's large tennis courts, soccer fields, baseball diamonds, a wading pool and even a restaurant, are popular among sports fans. The Grenadier Café is where you can stop for a drink and a bite to eat.
The green space also includes a dog park, a picnic area, a pond, sports facilities and the kind of wildlife that will make you feel all fuzzy inside.
4. Bluffer Park
Bluffer's Park is one of the most incredible spots to see the iconic Scarborough Bluffs along Lake Ontario. This expansive waterfront park is a lovely getaway from the city.
The park is aquatic-focused and is home to one of Toronto's top beaches. The lakefront is surrounded by a network of paths for bicycling and walking, which offers stunning views of the water.
The hiking trails that lead to the lookout at Scarborough Bluffs can be found in the southernmost part of the park.
5. Sunnybrook Park
Sunnybrook Park encompasses a total area of 381 acres and features forested groves of trees, wildlife and bird-watching opportunities, hiking trails and bike trails, and general relaxing opportunities.
Snapping turtles, red-winged blackbirds, great blue herons, and other animals are among the fauna that attracts animal enthusiasts to this location.
The American beech, sugar maple, and eastern white pine are just some of the tree species you can discover at Glendon Forest.
There are 25 hiking and biking trails and anything else you need here. Bring your beloved family member along; there is also an off-leash area here.
The Toronto Botanical Gardens are also connected to this park.
6. Trillium Park
Trillium Park is a waterfront park that features an abundance of green space with excellent views of the skyline of Toronto.
This 7.5-acre artificial Trillium Park, constructed on the site of a parking lot, is ideal for people who enjoy walking paths, running, cycling, or just relaxing while observing aircraft take off and land at Billy Bishop Airport.
Cross the main raised bridge to look at the park and the Toronto Skyline. This is also a great starting point for a walk along the Martin Goodman Waterfront Trail.
Walking through some of Toronto's best waterfront parks will take you into the city centre from here.
7. Christie Pits Park
The Christie Pits, which has a total area of around 22 acres, is conveniently situated near the junction of Christie Avenue and Bloor Street West. It is another one of the Best Parks in Toronto to visit.
For various reasons, Christie Pits Park is Koreatown's best park, with three baseball diamonds, a multipurpose sports field, a soccer field, a basketball court, a volleyball court, a skateboard park, a tennis court and a swimming pool with a splash pad.
You can also enjoy the artificial ice rink and challenging toboggan hills in the winter.
8. Toronto Music Garden
The Music Garden, a waterfront park where live music is frequently presented, is one of Toronto's most romantic locations and is among the best park in Toronto.
The Toronto Music Garden offers a musically inspired tour through tastefully landscaped gardens filled with vibrant plants and a sizable green space, all inspired by Bach's works.
The world-famous cellist Yo-Yo Ma had done the planning and designing of the park.
During the summer, the city hosts free outdoor concerts featuring classical music that complement the experience of walking through the gardens.
The best way to see Toronto's culture and natural beauty is to take a stroll in this park, which is both peaceful and classy.
The southwest portion of the city centre is only a short drive away.
9. Toronto Island Park
The Toronto Islands is one of the Best Parks in Toronto. It is located in Lake Ontario, 13 minutes by ferry from downtown Toronto.
Toronto Island Park offers a relaxing and tranquil retreat to a location with expansive lawns, lovely gardens, fantastic beaches, and shady lanes.
With a stunning view of the Toronto skyline, the park is situated on 600 acres of undeveloped ground.
There are also several attractions nearby, such as the Franklin Children's Garden, Centreville Amusement Park, a historic lighthouse, and the Far Enough Farm.
In addition to renting kayaks or canoes, you may also hire bikes. Even the ferry voyage to get here is enjoyable.
10. Humber Bay Park
Humber Bay Park is split into East and West Parks by Mimico Creek and is situated adjacent to Colonel Samuel Smith Park to the west of downtown Toronto.
Both park sections extend into Lake Ontario, but each provides visitors alike with a noticeably unique experience.
The park is popular with locals who like to take strolls or rest by the water, and both sections of the park are distinguished from one another by their protrusion into the lake.
Along with views of Toronto's skyline, it also provides opportunities to enjoy wildlife.
Humber Bay Park West is the larger park.  The park is divided into parking areas by a single paved road that runs its whole length. You may take advantage of the numerous lookout points, the rocky beaches, and the off-leash dog area that this location offers.
There is a sizable parking lot in Humber Bay Park East. You can access a 2.5 km circular trail, a butterfly habitat, a sizable rock beach, and lookout points ideal for taking pictures of the Toronto cityscape from here.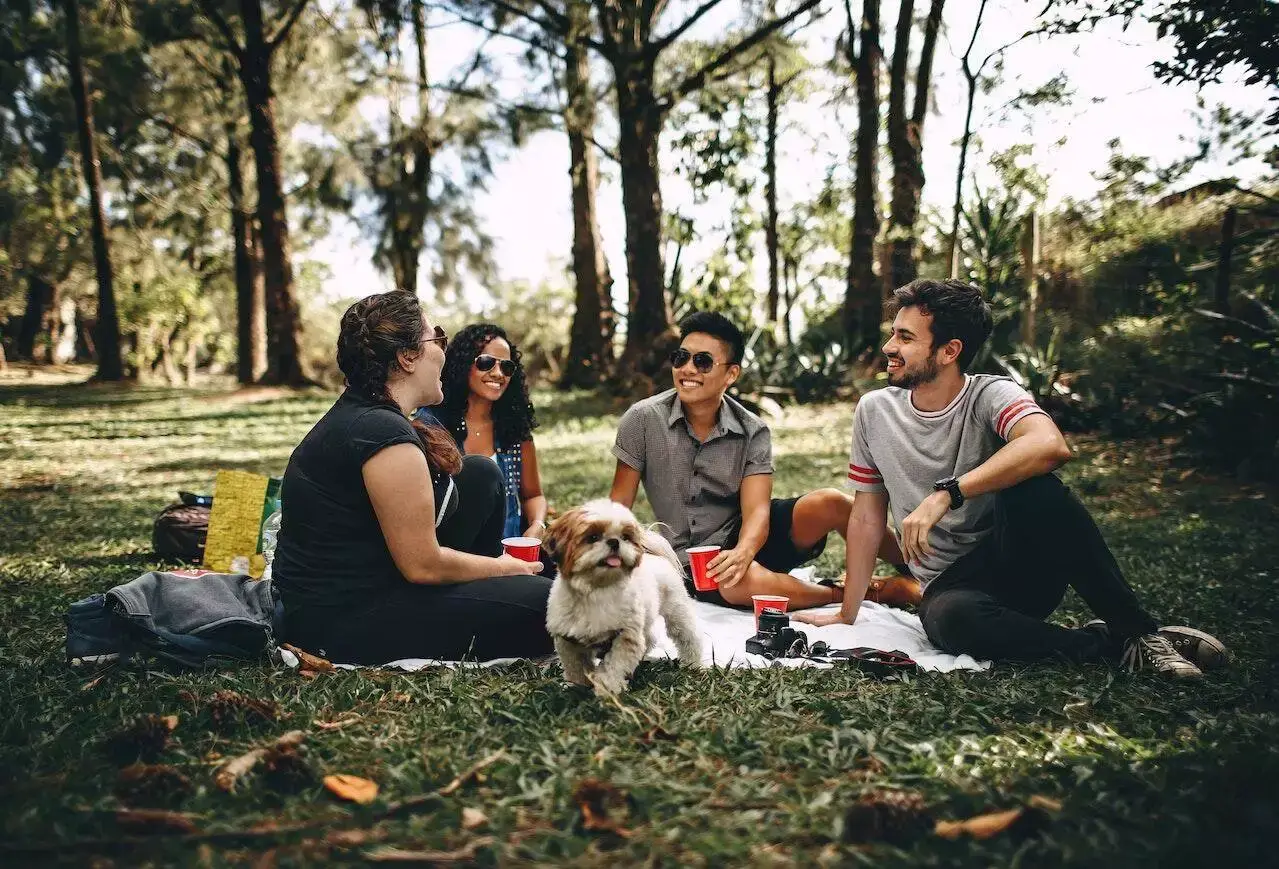 Conclusion
Toronto is commonly referred to as "The City Inside a Park" due to its numerous parks and widespread appeal.
However, if you are new to Toronto and want to make the most of your visit by seeing the city's attractions, you might be unsure where to begin.
It could not be easy to choose which destinations offer the best opportunity for exploration when there are so many fascinating places to see.
So we hope that this list of the Best Parks in Toronto proved to be useful to you!
Also Read: 10 Best Brantford Parks You must Visit.